Struggling with
What to Cook for Dinner?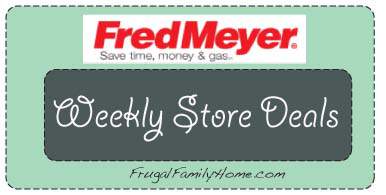 Here are the deals for this week for Fred Meyer.
Produce
NW Cherries $1.48/lb
Cantaloupe $.68/lb
Walla Wall Sweet Onions $.78/lb
Meat
Pork Country style spareribs $1.98/lb
Grocery
Nabisco Snack Crackers $5 for 3 boxes with coupon (limit 6)
Use $1/2 coupon  
Pay $1.17 each
Kroger Value Sugar $2.29 for 4 lbs
Kroger Value Hamburger/Hot Dog Buns $.59 each
Buy 10 of any item mix or match get $3 off now and get $2 catalina
Lay's Potato Chips $1.99 wyb 10
Use $.55/1 coupon
Pay $1.44 each
Lean Pockets $1.48 wyb 10
Use $.95/2 coupon
Pay $1.01 each 
General Mills Cereal $1.88 each wyb 10
Use $1/2 kids cereal coupon
Use $.50/1 Reese's Puff Cereal coupon
Pay $1.38 each 
Breyer's Ice Cream $2.49wyb 10
Use $1/2 coupon
Pay $1.99 each 
Kraft BBQ Sauce $.59 each wyb 10
Oreo Cookies $2.19 each wyb 10
Use $1/2 coupon
Pay $1.69 each
If you see any good deals I missed please leave them in the comments.
[signoff]