I stopped also at Fred Meyer. I am fortunate to live so close to quite a few stores. The whole trip to three stores takes about 1 hour with the shopping and driving. I also know the layout of the stores so it makes it easier to find what I need.
Here are the buys I found at Fred Meyer: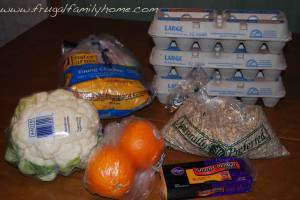 3 Dozen Large Eggs $.99 per dozen with in ad coupon
1 Kroger Sharp Cheddar Cheese $1.67 with in ad coupon
Navel Oranges $.58/lb $.77
Cauliflower $.79/lb $1.90( Ouch! I thought the price was $.79 each I was wrong)
Foster Farms Whole Chicken $.88/lb $4.65
Raw Sunflower Seed $.1.49/lb $3.20
I also got some Fuschia starts as they were on sale for $.99 each $11.88
For a total spent of $27.04 
Well that should be all the shopping this week except for a trip to the bread store on Saturday and a quick peek at Everyday deals for more fruits and veggies on Saturday. 
Please let us know the great deals you got this week.