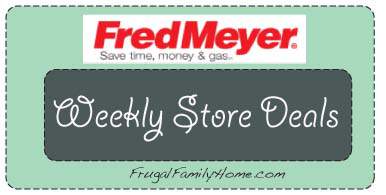 Here are the deals I found this week.
Meats
Pork Country Style Spare Ribs $1.88/lb
Boneless Skinless Chicken Breast Frozen 4lb package $1.88/lb or $7.52 with coupon (limit 2)
Produce
Pineapple $1 each
Cherries $2.98/lb
Mini Peeled Carrots 16oz bag $1 each
Dairy
Simple Truth Organic Soy Milk 1/2 gallon $2.50 each
Kroger American Slices $1 each
Kroger Cheese 6-8oz $1.79 each
Fred Meyer Eggs 18ct $1.50 each with coupon (limit 2)
Grocery
Fred Meyer BBQ Sauce $1 each
7 UP 2 Liter $1 each
Fred Meyer Tender Twist Bread $.88 with in ad coupon (limit 2)
Starbucks Coffee $5.99 with coupon (limit 4)
Use $1.50/1 coupon
Pay $4.49 each
Life Saver bag candy $1 each with ad coupon (limit 10)
Use $1/2 coupon Gummies if included 6/3RP
Pay $.50 each
Hot Pockets $1.50 each with ad coupon (limit 6)
Use $0.95/2 coupon
Pay $1.03 each
This post contains my referral links. You can see my disclosure policy here.