Struggling with
What to Cook for Dinner?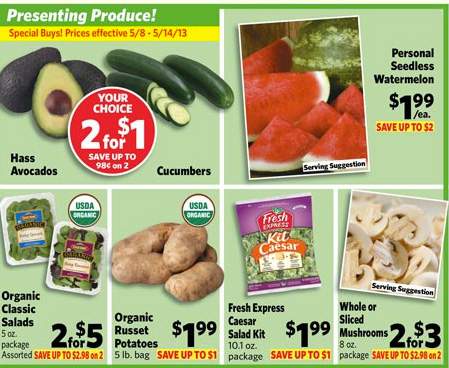 Grocery Outlet Deals
This week at Grocery Outlet you will find some good produce deals and more. Remember if you find a deal you like stock up since Grocery Outlet is a bargain market. So what's in the store this week may not be there next week.
Produce
Hass Avocados $.50 each
Cucumbers 4.50 each
Personal Seedless Watermelon $1.99 each
Organic Classic Salads $2.50 each
Organic Russets Potatoes 5-lb $1.99 each
Fresh Express Caesar Salad Kit $1.99 each
Whole or Sliced Mushrooms $1.50 each
Dairy
Galbani Mozzarella Fresca 8 oz $2.49 each
Galbani Mozzarella Fresca Marinated Fresh Mozzarella $3.49 each 
Arla Danish Havarti $1.49 each
Morning Fresh Chunk or Shredded Cheese 8 oz $3.98
Use $1/1 coupon in ad
Pay $2.98 each
Meat
Morasch Meats Bacon Wrapped Beef Filets two 6 oz $4.99 
Swift Seasoned Pork Spareribs $3.29/lb
New York Style Sausage 2-lb $4.99 each
Sunnyvalley Honey Sliced Center Cut Bacon $3.99 each
James Smoked Sausage Links 2-lbs $3.99 each
Grocery
Tyson Chili Lime Seasoned Wings 3-lb $7.99 each
Pure Nature 32 oz Organic Broccoli or California Blend $3.49 each
Tony's Mac and Cheese Pizza $.99 each
T.G.I. Friday's Loaded Potato Cheese Dip $1.99 each
Joe's Crab Shack Parmesan Panko Shrimp $2.99 each
Scenic Fruit Blueberries 24 oz $4.99 each
Use $1/1 coupon in ad
Pay $3.99 each
Bertolli Dinners $2.99 each
Use $1/1 coupon in ad
Pay $1.99 each
Western Bagels $1.99 each
Use $1/1 coupon in ad
Pay $.99 each
Welch's 100% Grape Juice $2.49 each
Prego Spaghetti Sauce 45 oz $2.99 each
Lay's Potato Chips Party Size $2.99 each
Angel Soft Bath Tissue Double Roll 4 rolls $2.99 each
Balance Bar 6 pack $2.99 each
9 Lives Cat Food $.79 each
Gravy Train Dog Food $.50 each
20% off all Wines May 8-12
Other Deals
Ladies Tank Tops $5.99 each
Ladies Flip Flops $1.99 each
Stainless Steel or Square Solar Stake Light $2.49 each
Orchid in Pot $9.99 each
Southern Patio Bird Feeders $7.99 each