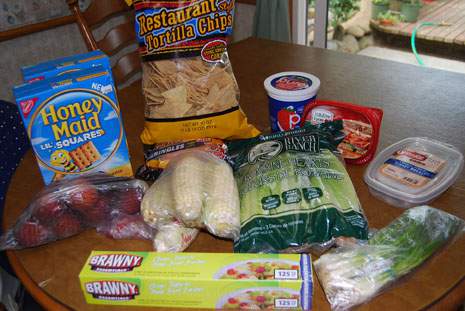 I made a trip to Grocery Outlet this week. I had not been in over a month but I did find some good buys.
My Purchases
2 Honey Maid Lil Squares $.99 each
1 Brawny Plastic Wrap $.99
Peaches 2.5 pounds marked down to $.99
2 Green Onion bunches $.99
4 Ears of Corn $.99
1 package Romaine hearts $1.99
Dannon Pure Yogurt $1.49
2 Best Life Butter Spread $1.49 each (not pictured)
Bag of Cat food $2.99 (not pictured)
Ball Park Hot Dogs $1.49
Hillshire Farm Lunchmeat $1.99
Sara Lee Lunchmeat $1.99
Tortilla Chips $1.99
Total Spent $22.86
If you have a Grocery Outlet near you be sure to head over to The Coupon Project as she gives away gift certificates to Grocery Outlet each month. The August giveaway has passed but be sure to follow her to get in on next months giveaway. Good Luck!