Struggling with
What to Cook for Dinner?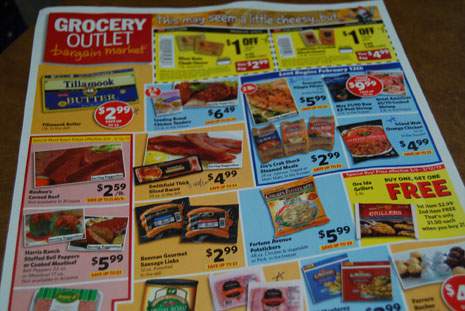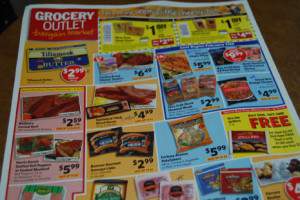 I am really excited to have a new Grocery Outlet store open up close to my house. So now when I go to Safeway I can easily drop in to Grocery Outlet  and see what deals they have. If you are new to Grocery Outlet they don't accept coupons unless it is their own but the prices are usually really good without coupon. Be sure to grab a flyer when you enter the store as the coupons listed below are in the flyer. Since Grocery Outlet is a bargain market they may have a limited supply of some items and when they are gone, those items might not be back in for a while, so if you see a deal be sure to grab a few.
Here are the new deals starting today.
Produce
Strawberries 1-lb $1.99 (my son has been asking for some of these)
Cuties 3-lb bag $2.99
Asparagus Bunch $1.98
Avocados $.50 each
Organic Classic Salads $2.50 each
Meats
Reuben's Corned Beef $2.59/lb
Jennie-O Ground Turkey 20 oz $3.59
Leading Brand Chicken Tenders 2.5 pound bag $6.49
Smithfield Thick Sliced Bacon 20 oz $4.99 each
Beemans Gourmet Sausage Links $2.99 each
Smithfield Deli Sliced Ham $3.99 each
Seacatch Tilapia Fillets 2-lb $5.99 each
Grocery
Silver State Chunk Cheese $3.99
Use $1/1 Grocery Outlet Coupon from Flyer
Pay $2.99 each
California Premium Sliced Cheese $5.99 each 
Use $1/1 coupon from Grocery Outlet Flyer
Pay $4.99 each
Joe's Crab Shack Steamed Meals $2.99 each
Chicken Pot Stickers $5.99 each
Island Wok Orange Chicken $4.99 each
Ore Ida Grillers 5-lb Buy One Get One Free $2.99 for two
El Monterey Taquitos $3.99 each
S&W Special Roast Coffee $5.99
Ferrero Rocher Gift box $4.99 each
Kettle Chips $1.99 each
HK Anderson Peanut Butter Filled Pretzels 44 oz $6.99 each
Malt-O-Meal Raisin Bran 16.5 oz $1.99 each
Other Deals
Ajax Detergent 98 loads $6.99 each
Angel Soft Bath Tissue 12 big rolls $5.99
Glazed Pottery Small to Jumbo Priced $9.99 to $49.99
Bare Root Roses $4.99 each
Black and Decker Yard tools $2.99 to $9.99 each
Pocket Hose 50 ft $18.99
Decorator Rugs 54″ x 88″  $29.99 each
Runner 24″ x 72″ $14.99
Retinol Beauty Products $6.99
Use $2/1 coupon from Grocery Outlet Flyer
Pay $4.99 each