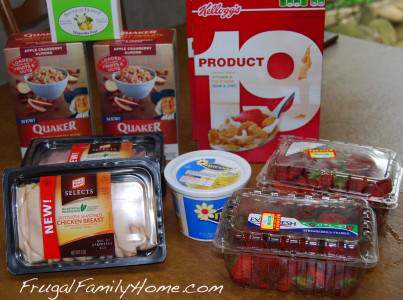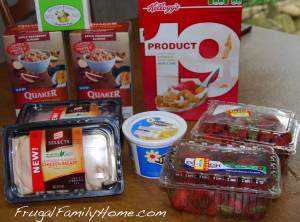 This is the first time in about two weeks that I have gone to Grocery Outlet. I found a good deal on clearance strawberries today along with cereal and some lunchmeat.
Here are my purchases
2 pkgs of Quaker Oatmeal $1 each
2 boxes of Product 19 Cereal $1 each
1 Nucoa Margarine $1.49 each
3 pkgs of Lunchmeat $1.49 each
2-1Lb pkgs of strawberries $.59 each
2 bars Natural Glycerin and Shea Butter Soap $2.49 
For at total spent of $13.59
I am going to try to make some homemade liquid soap using the natural bars of soap. My friends Sandra at The Sensible Mom and Erin over at My Mommy World both gave this a try so I thought I would too. I will be sure to let you all know how it turns out.
[signoff]