Albertsons has a deal going on now if you purchase 10 of certain items you get $2 off your purchase. So I am adding to my stockpile this week.
Here is what I got: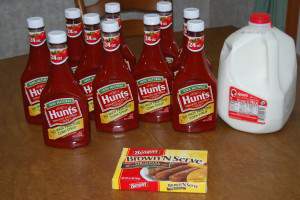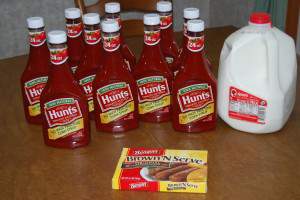 10 Brown and Serve Sausage $1 each  $10 -$2 total of $8
10 Hunts Ketchup $1 each  $10-$2 for a total of $8
1 gallon of milk $4.29
My total was $20.29 I used my $2 cat from last week along with my free milk cat which took of $4.50.
After Cats $13.79 
We use a lot of Ketchup around our house and I have been waiting for a stock up sale. I probably could have saved a few cents purchasing the Winco brand of ketchup but when I can get the Hunts Ketchup without the high frutose corn syrup I try to stock up.
Leave us a comment on your shopping deals.