We also stopped at Albertsons since they had double coupons this week. I was hoping to use my C & H sugar rain check with the coupon and the double coupon but my coupon expired yesterday. So I went ahead and used my rain check without the coupon as it was still a very good deal.
Here is what I ended up getting: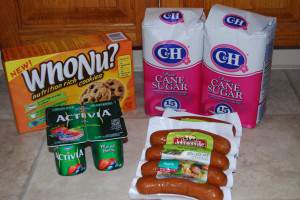 1 WhoNu Cookies on sale $1.99
Used $1/1 coupon from 1/22 SS
Used Albertsons double ($1)
FREE after coupon & double
1 Activia Yogurt (4-pack) on sale $2
Used $1/1 coupon from 2/12 SS
Used Albertsons double ($1)
FREE after coupon & double
2 Johnsonville Chicken Sausage on sale $2.99 with weekly ad coupon
Used (2) $1.50/1 coupon from 1/1 SS Nestle insert
$2.98 after coupons
2 C and H Sugar 4lb with Rain Check $1.99 each
$3.98 after rain check 
For a Total Spent of $5.95
I think the cashier actually doubled one of the Johnsonville coupons too so I saved an extra $1 on those. The store usually doesn't double the coupons over $1 so that was a nice surprise.
The double coupons are good until Tuesday 3/13 this time. You can only get them from your sunday paper so be sure to look for them. If you would like to see a more complete list of double coupon deals look here.
What kind of deals did you get at Albertsons?