I stopped at Everyday Deals in hopes of finding some good produce buys. Here is what I found: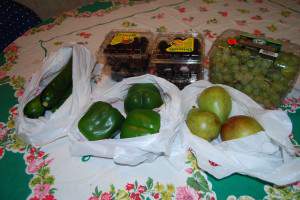 1 Organic Green Grapes 2lb package $1.59
3 Zucchini 6 for $1  $.50
3 Green Peppers $1
4 packages of Blackberries $1
3 Pears $.39/lb $.49
For a Total Spent of $4.58
Not too bad considering they did not have much to choose from.
Other deals I did not take advantage of are:
Apples $.39/lb
Beets $.20/lb
Turnips $.20/lb
Artichokes $1/2
Tomatoes $.59/lb
I did not get a chance to look around much as I went close to closing time. I may make another trip later in the week.
How is your grocery shopping coming along this week. Did you find any good deals?