Do you know that Franz Bread does a Super Saving Saturday?
They mark down their day old bread to 5 for $4. This sale includes their Organic bread. Which is the only bread that is dairy free so I usually wait until Saturday to purchase it. I used to make all of our own bread but if I can get it for $.80 a loaf I really can't make it for that price. My son wanted to get into the picture.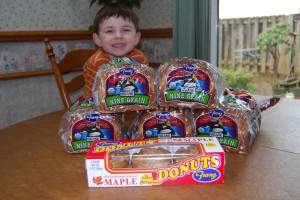 5 Loaves Organic Nine Grain bread $4
1 box Maple doughnuts $.50
Total $4.50
They also had Molasses cookies big ones in packages of about 20 for $2 I did not get any of these but they did look good.