I went to Safeway for just meat and chips. I didn't need any of their coupon items this week.
Here is what I brought home: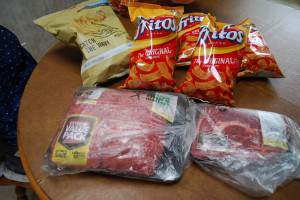 1 Bag Potato Chips $2.29
1 Chuck Pot Roast at $2.29/lb $6.72
1 Pkg Ground Beef at $1.99/lb $11.12 (they had the 93%lean on sale for $2.49 but I just went for the 80% lean because it was at my buy price)
4 Fritos on sale B2G2 free $6.98 (this worked out to $1.75 per bag better than Fred Meyer price of $1.99)
Total Spent: $27.11
I wish I had remembered to get the potato chips at Fred Meyer they usually will have their brand for $1.67 a bag. So I could have done a little better on this trip. I would really like us to get away from eating chips but the kids really like to have them. Maybe I can wean them onto veggies instead. The prices on these items are good until Tuesday.