I stopped by Safeway to get a sunday paper and it pick up a few things they had on sale. As you can see I forgot the Sunday paper. I will have to pick one up when we go out again. I really hate it when I forget things don't you?
Here is what I ended up getting: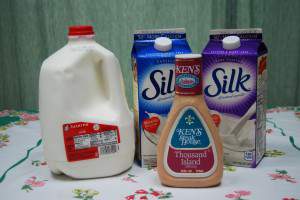 2 Silk Soy Milk $2.49 with in ad coupon
1 Ken's Dressing $1.19 with in ad coupon
Used $1/1 coupon from 3/11 SS
Double the coupon ($.50) they took off the overage
Free + $.31 overage 
1 gallon Lucerne Milk $3.09 used Free Milk Catalina from last week
Total Spent $4.67
Did you get any good deals at Safeway this week? Let us know in the comments.