Struggling with
What to Cook for Dinner?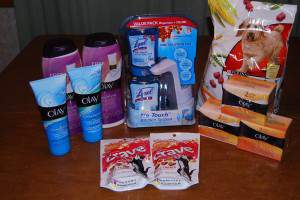 I had to go by the post office tonight so I also stopped at Target to pick up a few things.
I found:
3 Olay Bar Soap 2pack $2.59
Used $2/1 coupon 3/4PG
2 Purina Beneful  Dry Dog Food $5.21
Used Target coupon $2/1
Used $2.50/1 coupon 2/19RP
2 Crave Cat Treats $1.59 each
Used B1G1 coupon 2/5RP
1 Lysol No Touch Kitchen Starter Kit $9.99
Used $3/1 Target coupon 3/11SS
Used $3/1 coupon March All You
2 Olay Facial Wash $4.49 each
Used (2) Buy Olay Face wash get Free Olay Body Wash
2 Olay Body Wash with Free lotion FREE after coupon
For a Total Spent of $17.05
Did you make a trip to Target this week?