I had some Staples Rewards to spend that I got from buying batteries back in November. I did two transactions as I did not know if the Staples easy rebates would work if I paid with my Staples Rewards so to be safe I did two transactions.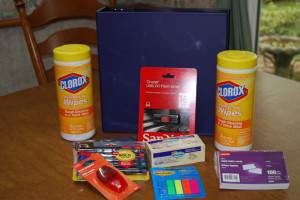 Transaction #1
2 Clorox Wipes $2 each
2 Staples index cards $.50 each
1 San Disk 16 GB Flash Drive $11.99
1 Staples Stickies Notepads 12pkg $1each
1 Staples Pencil Sharpener $.50 each
1 Staples Stickies Tabs $.25 each
2 Dry Erase Markers (5pkg) $1 each
1 2″ Ring Binder $5.99
Total of $26.73 Used my $26 Rewards
Total Paid $.73
Transaction #2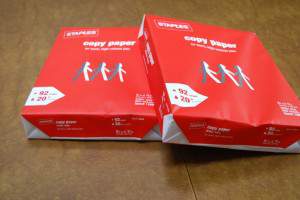 2 Staples Copy Paper $5.49 each
For a Total of $10.98  I will submit for a Rebate of $10.98 with Staples Easy Rebates.
After Rebate Free