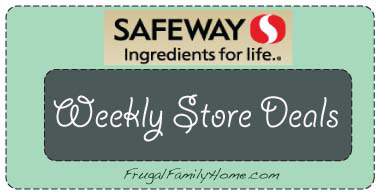 Safeway has some good deals on meat and produce this week. The price on grapes is a really good price. If you purchase extra you can freeze them and use them for snacks on a hot day. You can also use the frozen grapes in smoothies for a quick breakfast once school starts.
Produce
Red, Green or Black Grapes $.79/lb
Strawberries $1.99 for one pound package
 Hass Avocados $.99 each
Green Onions or Radishes $.50 each
Meats
Pork Shoulder Blade Steak $1.99/lb
Rancher's Reserve Boneless Beef Round Steak $2.49/lb
Grocery
Pantry Essentials Ketchup B1G1 (? Price)
Best Foods Mayonnaise 16.5 oz B1G1 (? Price)
Bulls-Eye BBQ Sauce B1G1 (? Price)
Ragu or Francesco Rinaldi Pasta B1G1 (1.25 each with sale)
Buy 4 Save $4 (must buy 4 or more to get these prices)
Betty Crocker Fruit Snacks $.99 each
Use (2) $.75/2 coupon 8/5GM
Or Use $.75/3 coupon
Pay$.62 each or with doubler $.37 each
General Mills Cereal $1.49 each
Use any of these coupon
$1/3 coupon 8/5GM
$1/2 coupon 7/15SS
$.50/1 Cherrios
$.50/1 Cinnamon Toast Crunch
Pay as low as $.99 each or with doubler $.49 each
 Friday Only Deals
 Pepsi 24 pack $5 each
Use $2/2 coupon 7/22Pepsi
Pay $4 each or with doubler $3.75 each
The links in this post are my referral links. You can read my disclosure policy here.