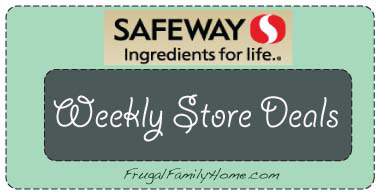 Safeway has a few good buys this week. There is a juice sale with some coupon match-ups. Also some good produce prices. This sale is good from 8/15 to 8/21.
Produce
Yellow peaches and nectarines $.97/lb
Hass Avocados $.99 each
Green Peppers $1
Red or Green Grapes $1.99/lb (Fred Meyer has organic grapes for the same price this week)
Meats/Dairy
Pantry Essentials Milk $2.59/gallon
Rancher's Reserve Boneless Beef Petite Sirloin Steak $2.49/lb
Rancher's Reserve Beef Round Sirloin Tip Roast $2.49/lb
Eating Right Boneless Skinless Chicken Breasts, Tenders $2.49/lb
Assorted Pork Loin Chops $2.49/lb
Grocery
Ritz or Chips Ahoy B1G1
$1/2 coupon 8/5SS
$1/2 coupon
Pay ?
S&W Beans $1 each
$1/5 coupon
Pay $.80 each with doubler $.70 each
Golden Grain Pasta $1 each
$.55/1 coupon
Pay $.45 each with doubler Free
Del Monte Fruit Cups $2.50
$1/2 coupon 8/12RP
Pay $2.00 or with doubler $1.75 each
Skippy Peanut Butter $2.49 in ad coupon (limit 3)
$.35/1 coupon
$.75/2 coupon
$1/3 coupon
Pay as low as $2.12 or with doubler $1.87 each
Comet $.99
Use $.75/1 coupon All You April
Pay $.24 or with doubler FREE
Buy One Get One Free
Marie Dressing
$1/1 coupon
Accent Almonds
$1/1 coupon or $.50/1 coupon 6/5SS
Sugar Snap Peas 
Safeway Farms Salad Blends
Fresh Express Salad Mix 
Juice Jamboree Sale
Welch's Refrigerated Juice $1.99
$1/1 coupon 6/3RP
Pay $.99 or with doubler $.49 each
V-8 Fusion $2.49
$.75/2 coupon 8/5SS
Pay $2.12 each or with doubler $1.87 each
Pom Wonderful $2.99 each
Use $1/1 coupon
Pay $1.99 or with doubler $1.49 each 
Friday Only
Jennie-O Turkey Store 85% Lean 3 pounds $5
Lucerne Chunk Cheese 32 oz $5
Waterfront Bistro Large Raw Shrimp 31 to 40 ct $5/lb
Some of the links in this post are my referral links. You can read my disclosure policy here.