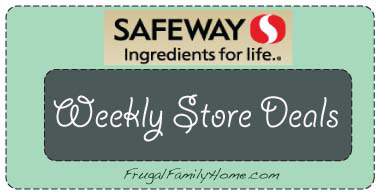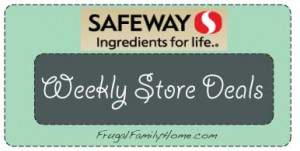 This week at Safeway I found a few good sales items. Here are the deals I found. These sale prices are good from 7/11 to 7/17 unless otherwise noted.
Meats
Pork Shoulder Blade Steak $1.99/lb
Foster Farms Whole Fryer $.79/lb
 Foster Farms Ground Turkey Breast 20 oz pkg B1G1 Free
Produce
10lb Russet Potatoes $2.39
 Hass avocados $.99 each
Grocery
Mix and Match Buy One Get One Free
Oscar Mayer Deli Fresh Lunch meat B1G1
Kraft Shredded Cheeses 8 oz
Kraft Singles 10.7-12 oz
Claussen Pickles 20-32 oz
Breyers Ice Cream $3 each
Use $1/2 coupon
Pay $2.50 each or with doubler $2.25 each
Post  Pebbles $2.50 each
Use $1/2 coupon (if cocoa pebbles are included)
Pay $2 each or with doubler $1.75 each
Pace Salsa $2 each
Use $.40/2 coupon 4/29SS
Pay $1.80 each (better sale on this at Albertsons this week)
Star Olive Oil B1G1 Free
Use $1/1 coupon
Pay ?
Pop Tarts $1.67 each
Use $1/3 coupon 6/24RP
Pay $1.34 each or with doubler $1.17 each
Frozen
Smart Ones Meals $2 each
Use $2 off of 10 coupon
Pay $1.80 each or with doubler $1.70 each
4 Day Sale Friday to Monday
Kellogg's Cereal $1.88 each
Use $1/3 coupon 6/24RP
Pay $1.54 each or with doubler $1.38 each
Nabisco Chips Ahoy or Toasted Chips $1.99 each
Use $1/2 coupon
Pay $1.49 each or with doubler $1.24
Kraft Mayo or Miracle Whip $1.99 each
Use $.55/1 coupon 6/17SS
Pay $1.44 or with doubler $.94 each
Friday Only
Lucerne Chunk Cheese 32 oz $5 each
Jennie O Turkey Burgers 3lb frozen or 1.33lb  $5
Waterfront Bistro Large Raw Shrimp 31-40 ct $5/lb