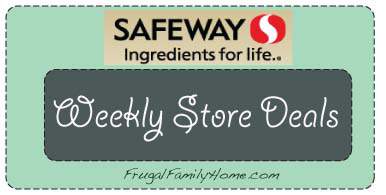 This week at Safeway there is a buy one get on free cheese sale, a frozen food sale where you can earn coupons for dollars off your next purchase, the buy 4 save $4 sale is ongoing from last week and a very good deal on C&H sugar too.
Here is what I found this week,  
Produce
Hass Avocados $.78 each
Blueberries or Blackberries $2.99 each
Ataulfo Mango $1 each
Safeway Farms Whole or Sliced  White Mushrooms $1.79 each
Safeway Farms or Fresh Express Complete Salads $3
Meat
Rancher's Reserve Beef Chuck 7-bone Pot Roast $2.69/lb
Eating Right Boneless Skinless Chicken Breast $2.49/lb
Boneless Pork Top Loin Center Cut Chops $2.99/lb
Boneless Pork Shoulder Roast $2.49/lb
Chicken Leg Quarters $.59/lb (sold in 10-lb bags)
Swai Fillets $3.99/lb
Tyson Fully Cooked Entrees B1G1 Free
Frozen Food Sale
Buy $30 in participating frozen items get $10 coupon off your next trip. Buy $20 get $5 coupon off next trip. 
Smart Ones Meals
$1/3 Weight Watchers Smart Ones Frozen Product printable
$2/6 Weight Watchers Smart Ones Products printable
$4/12 Weight Watchers Smart Ones Products printable
SeaPak
$0.75 off any ONE SeaPak product
$0.75/1 SeaPak Product printable
$0.75/1 Seapak Product, 2/10 SS
Green Giant Steamers
$0.50/1 Green Giant Seasoned Steamers, 2/10 SS (if included)
Red Baron Pizza 3 for $10
Use $1/2 coupon
Pay $2.83 each or with doubler $2.58 each
Cheese Event Mix and Match
Tillamook Natural Slices B1G1 Free
Kraft Shredded Cheese B1G1 Free
$1.00 off TWO (2) KRAFT Natural Shredded Cheese
Kraft Singles B1G1 Free
Kraft String cheese B1G1 Free
Sargento Shredded Cheese B1G1 Free
Precious String Cheese B1G1 Free
Crystal Farms Cheese Wedges B1G1 Free
Buy 4 Save $4 Promotion
Nature Valley Granola Bars $1.49
Use $0.50/2 Nature Valley Granola Bars or Granola Thins, 2/24 SS
or $0.50 off 2 BOXES any Nature Valley Granola Bars
Pay $1.24 each or with doubler $1 each
Fiber One Bars $1.99
Use $0.50/1 to $1/2  Fiber One Protein Chewy Bars, 3/3 SS
or $0.50 off 1 BOX Fiber One Protein Chewy Bars
Pay as low as $1.49 each or with doubler $.99 each
Gevalia Coffee $6.99 each
Use $1.00 off any ONE (1) GEVALIA Coffee
or Use Save $1.50 on any ONE (1) GEVALIA Coffee
Pay as low as $5.49 each or with doubler $4.99 each
Grocery
Safeway Kitchens Butter Top, Crushed Wheat or 100% Wheat Bread $1.49 each
Chunky Soup $1.50 each
$0.50/1 to $1/4 Campbell's Chunky Soup or Chili, 3/3 SS
Or $1/4 to  $1/1 Campbell's Chunky Soup or Chili, 1/13 SS
or $1/4 Campbell's Chunky or 100% Natural Healthy Request Soup, 2/3 SS
Pay as low as $.50 each or with doubler Free
Bob Evans Side Dishes $3 each
Use $0.55 off (1) Bob Evans Refrigerated Side Dish
Pay $2.45 each or with doubler $1.95 each
Cheez-it or Club Crakers $2.50 each
$1/1 Keebler Club Crackers (Ibotta Deposit)
$1.25/1 Cheez-It Crackers (Ibotta Deposit)
$1/2 Keebler Crackers or Sunshine Cheez-It Crackers, 1/27 RP
Pay $2 each or with doubler $1.75
Fritos or Cheetos B1G1 Free
Wrigleys Orbit or Eclipse Gum B1G1 Free
Use $1.00 off any one Orbit or 5 Gum Grab & Go Pack
Jif Peanut Butter or Smucker's Preserves $2.49 each with in ad coupon (limit 4)
Use $0.55/1to $1/2 Smuckers Sugar Free Jam, Jelly, Preserves or Fruit Spread, 2/17 RP
Pay as low as $1.94 or with doubler $1.44 each
Wish-bone Salad Dressing $.99 each with in ad coupon (limit 3)
Safeway Select Olive Oil 16.9 oz $3.99 with in ad coupon (limit 4)
Hunt's Manwich or Chef Boyardee Canned Pasta $.99 each
Use $1.30/5 Hunts Manwich, exp. 3/31/13 (SS 02/24/13 R)
Or $1/5 Chef Boyardee Microwaveable Cups or Canned Pasta, exp. 3/31/13 (SS 02/24/13 R)
Pay as low as $.73 each or with doubler $.63 each
Mt Olive Pickles B1G1 Free
Use $.50/1 to $1/1 Mt. Olive Pickles, Peppers or Relish, 1/20 SS
Rice a Roni or Pasta Roni $1 each
Lucerne Soy or Almond Milk $2.49 each with in ad coupon (limit 3)
Speed Stick or Lady Speed Stick $1.49 each with in ad coupon (limit 4)
Powerade $.69 each
Safeway Kitchens English Muffins $1.29 each
Pantry Essentials Sandwich Slices $.99 each
Annie Chun's Noodle Bowls $2.99
Use $0.50/1 Annie Chun's Product printable
Pay $2.49 or with doubler $1.99 each
Pepperidge Farms Milanos or Baked Naturals $2.50 each
Use $0.60/1to $.75/1 Pepperidge Farm Baked Naturals, 1/20 SS
Pay as low as $1.75 or with doubler $1.25 each
Smithfield Premium Bacon $3.99 with in ad coupon (limit 5)
Nalley Chili $.89 with in ad coupon (limit 10 )
Simply Potatoes $1.99 with in ad coupon (limit 3)
Use $1/2 Simply Potato printable
Pay $1.49 each or with doubler $1.24 each
Capri Sun Drinks $1.79 each with in ad coupon (limit 4)
Redeem $1/1 Capri Sun Original (Ibotta Deposit)
C&H Sugar $1.99 with in ad coupon (limit 3)
Use $0.65/1 C&H Sugar, All You Mar '13
Or use $0.75/2 C&H Sugar Products printable
Pay as low as $1.34 each or with doubler $.84 each
Safeway Pudding Cups $.79 each with in ad coupon (limit 4)
Honey Nut or Multi-Grain Cheerios $1.99 with in ad coupon (limit 4)
Use $1/3 General Mills Big G Cereal, 3/3 SS
Pay $1.66 or with doubler $1.49 each
Just for U Deals
Magnum Novelties $3.99 (limit 3)
Load $1.00 coupon
Pay $2.99
Hillshire Farm Gourmet Creations or Ball Park Beef Franks $3.99 (limit 5)
Load $1.00 coupon
Pay $2.99 each
Imperial Spread $.99 (limit 3)
Load $.20 coupon
Pay $.79 each
Ragu Pasta Sauce $1.79 (limit 6)
Use $.50 coupon
Pay $1.29 each
Nabisco Oreo Cookies 2 for $5 (limit 2)
Load $1/2 coupon
Pay $2 each (must purchase two)
$5 Friday Sale
Extend these deal all weekend by adding them to your Safeway card on Friday
5-lb Bag Clementines $5
Totino's Pizza Rolls or Party Pizza $1 each
Use $.35/1 to $1/2 Totino's Rolls Snacks, 1/27 SS
Or Use $1.10/5 Totino's Crisp Crust Party Pizza Products printable
Pay as low as $.50 each or with doubler $.25 each
Brawny Paper Towels or Quilted Northern Bath Tissue $5 each
Use $1/2 Brawny Paper Towels, 2/3 RP
Pay $4.50 or with doubler $4.25 each
Fresh Baked Muffins or Turnovers $2.50 each