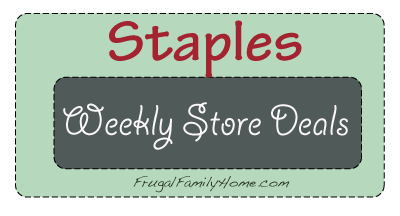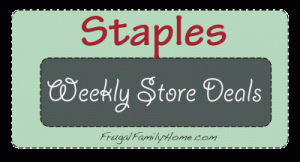 Here are the deals you can find at Staples this week. There are a few in ad coupon along with a few Staples Rewards deals and a few coupon match ups too. Thanks to Sarah at Yes We Coupon for putting this list together.
In Ad Coupons
$5 OFF your in-store purchase of $25 or more
Limit one coupon per household.
Minimum purchase requirement must be met with purchases to which no other coupon or instant savings offer applies.
Save an extra $10 on any advertised Canon® inkjet printer 
$30 off any HP inkjet printer regularly priced $199 and above
20% off any one breakroom and cleaning item
Get an extra $50 OFF Select Shredders
Includes these models: SKUs 356139, 356071, 946197
Free Shipping on Staples.com Orders of $20 or More
Office
Westcott Preferred 7″ Scissors: $1
Limit 2 per customer
Staples 13-Pocket Poly Coupon File: $1
Limit 2 per customer
Staples® #10 envelopes 25 pk: $1
Limit 2 per customer
SanDisk Cruzer® Blade USB Flash Drive – 8GB: $4.99
SanDisk Cruzer® Blade USB Flash Drive – 16GB: $7.99
Sharpie Permanent Markers, 12/pack : $3
BIC BU3 Retractable Ballpoint Pens, medium, 18/pack: $4
Staples Turcotte Chair: $59.99
Reg. price $149.99
Expanding Paper Envelope with Elastic, letter size: $1
Limit 2 per customer
Staples Magnetic Mini 10-Sheet Stapler: $1
Limit 2 per customer
Staples Memo-Size 5.5″ x 9″ Clipboard: $1
Limit 2 per customer
Staples 3.75″ x 5.5″ Faux Leather Memo Book, 80 sheets: $1
Limit 2 per customer
Staples Assorted Binder Clips: $2
Limit 2 per customer
Staples Remarx Dry-Erase Markers 6pk: $2
Limit 2 per customer
Staples Stickies 1½ " x 2″ notes 12pk: $2
Limit 2 per customer
Scotch® transparent tape, ¾ " x 300, 3 pk: $2
Limit 2 per customer
Final Cost: 0.67 each roll
Bankers Box Letter/Legal-Size 100% Recycled Storage Boxes 4pk: $5
Brother PT-90 Personal Labeler: $10
Post-it 3″ x 3″ Value Pack, 18 pk: $10
Final Cost: 0.56 each pad
Staples Battery Operated Pencil Sharpener: $10
Staples Lockridge Chair: $39.99
Reg. price $89.99
Staples 8-sheet compact cross-cut shredder: $19.99
Avery® Durable View 1″ binder: $5.99
Save $2 instantly on the purchase of a new binder for each old one you recycle
$5.99 – $2 recycling savings = $3.99
Final Cost $3.99
Canon Photo Paper: 50% off
Targus Dual Fan Chill Mat: $9.99
Reg. price $29.99
SanDisk 8GB SDHC or Ultra Memory Card: $9.99
SanDisk 16GB SDHC Memory Card: $12.99
SanDisk 16GB Ultra SDHC Memory Card: $16.99
Nestle Pure Life 0.5 L Purified Water Bottles 24 pk: $3
Bounty Basic Paper Towels 8 pk: $5.99
$1 off Bounty Towels or Napkins, Align Product Insert
$0.25/1 Bounty Towels or Napkins, 11/25/PG (exp. 12/31/12)
Pay $4.99 or 0.62 a roll
Charmin Basic bath tissue, 16/pack: $6.99
$1/2 Charmin Product,  11/25 PG (regional) (exp. 12/31/12)
$0.25/1 Charmin Product, 11/25 PG (exp. 12/31/12)
$0.25/1 Charmin Product,  12/30 PG
Pay $6.49
Sony DVD Media DVD + R 50 pk : $19.99
School Supplies
Staples 1-subject Notebook: 0.50
RoseArt Colored Pencils: $1
Limit 2 per customer
Staples Glue Sticks 4 pk: $1
Limit 2 per customer
2-Pocket Paper Folder: 10/$1
Limit 20 per customer
Final Cost: 0.10 each
Writing Pad, Assorted Designs and Rulings: 4/$3 (or $1 each)
Final Cost: 0.75
Paper Mate Sharpwriter 0.7 mm Mechanical Pencils 5 pk: $1
Limit 2 per customer
Simply Poly Binder, assorted colors: $1
Limit 2 per customer
Staples Stickies ½ Page Flags 125 pk: $1
Limit 2 per customer
Crayola Crayons 64 pk: $3
Staples Eraser and Grip Value Tub 115 pk: $5
Staple filler paper, 8″ x 10.5″, 120 sheets – college ruled: $1
Limit 2 per customer
Staples ruled 3″ x 5″ white index cards, 100/pack: $1
Limit 2 per customer
Staples composition book, 100 sheets – wide ruled: $1
Limit 2 per customer
Rewards/Rebates
Avery Heavy Duty View Binder: Reg. price $8.49 – $32.99
Get 100% back in Staples Rewards. Limit 4 per customer
 FREE after Rewards
Staples 10/pack Economy Storage Box: $15.49
Get 100% back in Staples Rewards. Limit 2 per customer
FREE after Rewards
Staples Heavy Weight Manila Letter-Size File Folders, 3 tab, 50/Box: $9.19
Get 100% back in Staples Rewards. Limit 2 per customer
FREE after Rewards
Staples Letter/Legal-Size Plastic Storage Tote: $13.99
Get 100% back in Staples Rewards. Limit 2 per customer
FREE after Rewards 
Staples 2013 22″ x 17″ Deskpad Calendar: $5
Get 100% back in Staples Rewards. Limit 2 per customer
FREE after Rewards
HammerMill 8.5″ x 11″ Copy Plus Copy Paper, 500 sheets: $6.99
Limit 4 per household
$6.99 – $5.99 easy rebate = $1
Final Cost: $1
Staples 8.5″ x 11″ Multipurpose Paper, 10-ream Case: $49.99
Limit 2 rebates per household
$49.99 – $30 easy rebate = $19.99
Final Cost: $19.99
TurboTax® Deluxe + State + eFile: $59.99
FREE Quicken® 2013 Starter Edition after easy rebate with the purchase of TurboTax®. A $39.99 value. 953842. Limit 1 rebate per household
Staples Photo Plus 4″ x 6″ Paper, gloss: $9.99
Limit 2 rebates per household.
$9.99 – $9.99 easy rebate = FREE
FREE after Easy Rebates
Canon P23-DHV 2-Line 12-Digit Desktop Calculator:$24.99
$24.99 – $9.99 instant savings – $10 mail-in rebate = $5 Final Cost: $5
Avery Full-Sheet Labels: $12.79 $26.99
$8 Easy Rebate Limit 1 rebate per SKU per household.
Pay As low as $4.79
Norton 360 2013 V6.0, 3 PCs: $89.99
$89.99 – $5 instant savings – $45 easy rebate = $39.99
Final Cost: $39.99 after Easy Rebate
P-touch 2030 Handheld Labeler: $49.99
Get $10 off instantly when you trade in any labeler and purchase a new one regularly priced $49.99 or more. In store only.
$49.99 – $20 instant savings – $10 trade-in savings = $19.99
Final Cost: $19.99
P-touch 2430 PC-Connectable Labeler: $79.99
Get $10 off instantly when you trade in any labeler and purchase a new one regularly priced $49.99 or more. In store only
$79.99 – $30 instant savings – $10 trade-in savings = $39.99
Final Cost: $39.99
Norton AntiVirus 2013, 1 PC: $49.99
Limit 1 rebate per household.
$49.99 – $25 easy rebate = $24.99
Final Cost: $24.99
Norton Internet Security 2013, 3 PCs: $79.99
Limit 1 rebate per household. $79.99 – $40 easy rebate = $39.99
Final Cost: $39.99
Kaspersky Internet Security, 1 PC: $59.99
$59.99 – $10 instant savings – $40 easy rebate = $9.99
Final Cost: $9.99
Kaspersky® Pure Total Security 2.0: $89.99
$89.99 – $40 Rewards instant savings – $15 easy rebate = $34.99
Final Cost: $34.99 after Easy Rebate