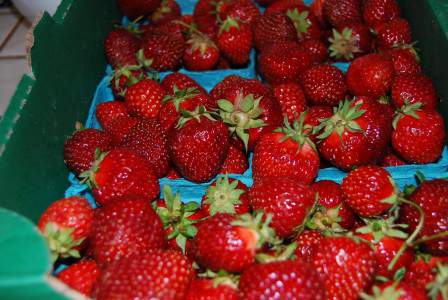 I didn't have to do much shopping this week. I did pick up some strawberries, a few items at Fred Meyer and a few items at Everyday Deals. I was able to go and pick raspberries at a neighbor's house this week and made some raspberry jam.
My Purchases
Olson Farm Strawberries $23.00 Flat
The Barn Strawberries $5 half flat (day old sale price)
Fred Meyers
2 Silk Soy Milk $2.49 Used $2/2 coupon Paid $1.49 each
1/2 Gallon Milk $1 each with ad coupon
Bananas $.64/lb $1.10
Paid $5.08
Everyday Deals Trip $9.64
Total Spent this week was $42.72. So I came in under budget again this week. I have made my strawberry jam and some raspberry jam already. I also dehydrated some strawberries for use later. So I think we are stocked up on  our berries at least until the marionberries are ready.
How did you do on your grocery budget this week?
[signoff]