This week I did not do too much shopping. I was not feeling really well. Then my daughter caught the cold I had and now today my husband is getting sick too. I am hoping that our son stays well. Here is the shopping I did get done today.
Fred Meyer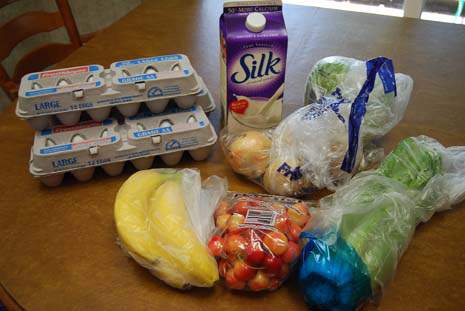 My purchases
3 dozen eggs $.99 each with in ad coupon
Silk soy milk $2.49 each used $.55/1 coupon
Rainer Cherries $2.98/lb $3.58
Yellow onions $.49/lb $.77
Lettuce $.88 each
Celery $.49/lb $.88
Bananas $.64/lb $.70
24pkg of Spring Water Sale $1.99
Total Spent $14.91
Everyday Deals
My purchases
4 cucumbers $.50
Broccoli $.39/lb $.27
Grapes $.49/lb $1.27
8 Kiwi Fruit $1 for all
2 boxes Fruit Snacks $.50 each
Girl Scout Cookies $1 for 3 pkgs
2 Pirate Bootie Bar-B-Cue $.50 each
Tortilla Chips $.50 each
2 (12pkgs) Pirate Bootie White Cheddar $1 each
3 pkg Granola Bars $1 each
Reese's Peanut Butter Cups $1
Total Spent $13.04
Franz Bread Store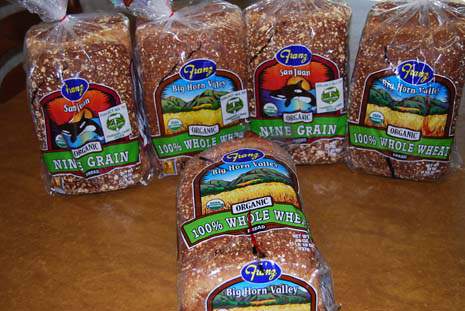 5 loaves of Whole Wheat Bread $.80 each
Total Spent $4.00
I also made a purchase at Fred Meyer early this week. I did not get a picture of that purchase because while I was bringing the groceries in I knocked over the metal garbage can on my foot. So I forgot all about taking picture. I spent $27.00 on that trip.
My total spending this week was $58.95. So I am a little below budget again this week.
How did you do with your grocery shopping trips this week?
[signoff]