I did not do too much shopping this week at all. In fact I only went to one grocery store this week. I did stop to get a price list from our local meat market. The price of ground beef has increased so much in our area, I wanted to compare prices with the meat market. Now the meat market prices are very close to the grocery stores in my area so I will likely start buying meat packs from the meat market.
Here is what I got at Safeway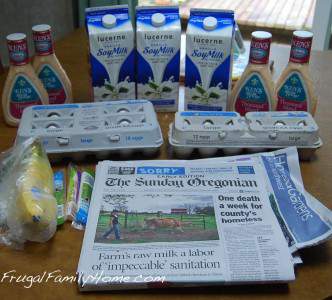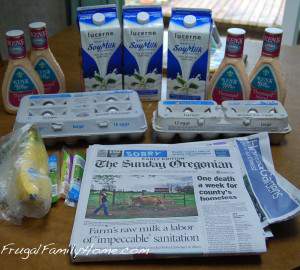 4 Ken's Dressing $.99
Used (2) $1/2 coupon
Used (2) double $1 off
Paid $.96 for all 4
Used $2 off $10 Lucerne coupon on these items
3 Lucerne Soymilk $2.59 each
1 18ct eggs $2.29
3 Lucerne cheese sticks $.99
1 dozen Lucerne eggs Free from Personalized coupon loaded on my card
Bananas $.64/lb $.61 
Sunday Newspaper $2
Total spent for this weeks shopping $12.12
So how did you do grocery shopping this week?
[signoff]