I am getting this post up a little late today. I went out this morning and did some shopping. I needed to get some sauces and soy sauce for freezer cooking. I ordered 40 pounds of chicken breast from Zaycon foods so in a few weeks I will pick it up. I am splitting the box of chicken with my friend. So since the sauces are less expensive at our asian market I went there first.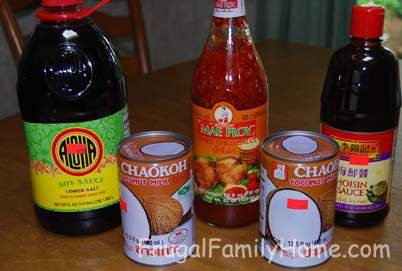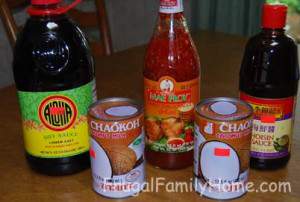 Here is what I purchased at the Asian Market
1/2 gallon of Soy Sauce $8.99
2 cans Coconut milk $1.79 each
1 Hosin Sauce  $3.99
1 Sweet Chili Sauce $2.79
For a total of $19.35
Then I went to Fred Meyer. I wanted to pick up some eggs, soy milk and applesauce. They also had compost for the flower beds so I bought a few bags of compost too. I found some hoagie rolls on mark down so I bought those for our lunch.

Here is my purchase
1 Applesauce $1.87
1 Sunday Paper $2
2 18ct Eggs $1.50 each with ad coupon
1 Silk Soy Milk $2.79 used $.55/1 blinkie $2.24
1 package of Hoagie Rolls marked down to $1.19
1 bunch of Bananas $.92
1 Fred Meyer Salt $.49
1 Vanilla $1.19
Total spent on groceries $13.45
I also bought the compost for the flower beds at $3.33 each for a total of $9.99
So we got home after shopping I took my pictures above. Then I went out to spread the compost. While I was spreading the compost my husband decided to take our bathroom drain apart to snake it so it would drain better. I got the three bags of compost spread out. I did not buy nearly enough. When I came in to make lunch my husband said we needed a new pipe. The old one had broken out the side when he removed it. So after lunch we went back to the store to get a new drain pipe and more compost.
I bought 6 more bags of compost on sale $19.98, I think the pipe replacement was $8 but I can't find the receipt.
Then we returned home and I spread out all six bags. I can't believe it but we need still another 4 more bags. How can so heavy a bag of compost cover so little a space. So I may go out again tonight to get more compost as today is the last day of the sale. The drain in our bathroom sink is repaired and works very nicely now. This day did not go as we had hoped. But at least our drain is fixed and the yard, well most of it is looking great.
How did your day go today?
[signoff]