This week I found a few good deals to stock up on. The first was the eggs at Fred Meyers for just $1.25 a dozen. We were down to one dozen, so I purchased the coupon limit.
We were also out of cereal. Usually we have a good stock on hand, but I just hadn't seen any good deals. So, when Safeway had a good price on cereal and granola bars I decided to stock up. I don't usually buy 9 boxes of cereal at one time. But I wanted to stock up since it's the best deal I've seen on cereal in a while.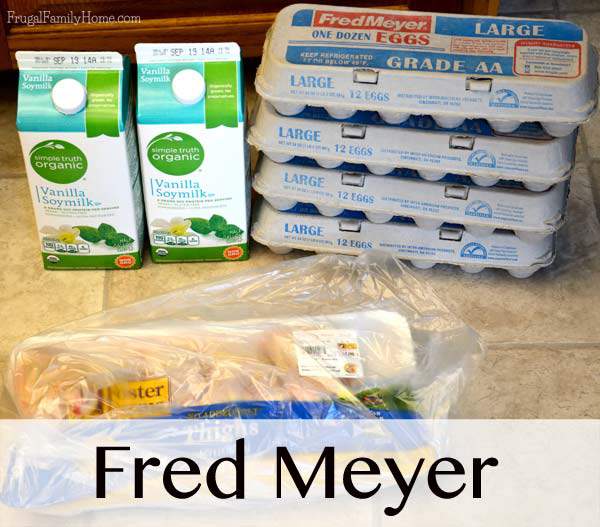 There was a good buy on chicken thighs, so I picked up one package along with the soy milk that was on sale too.
Fred Meyer purchases
4 Eggs $1.25 a dozen with in ad coupon
2 Soy Milk $2.50 each
Chicken Thighs $.99/lb
Total Spent $14.06
Safeway Purchases
5 boxes of Honey Nut Cheerios $1.99, Used (5) $.50/1 coupons, Paid $1.49 each
2 boxes Cheerios $1.49, Used $1/2 coupon, Paid $.99 each
2 boxes Lucky Charms $1.49, Used $1/2 coupon, Paid $.99 each
2 boxes Ritz $1.88 each
3 boxes Nature Valley Granola Bars $1.49 each, Used (3) $.50/1 coupon, Paid $.99 each
Pringles $1.67 each, Used $1/4 coupon, Paid $1.42 each
Breyers Ice Cream sale $2.50
Ground Beef $2.99/lb
Used coupon doubler -$2
Paid $38.47
That brings my grocery spending this week to $52.53. Not too bad for stocking up on ground beef and chicken.
What good deal did you find while you were out shopping this week?