Last week I didn't get my shopping post up on Saturday. With my husband being on vacation, we didn't do much shopping at all. I did shop at Winco Foods but after pushing that heavy cart all over the store to do my once a month big shopping trip I was tired. I came home put away the groceries, without remembering to take a photo. So, I just let it go for last week.
This week, I did some discount grocery store shopping. I decided since the weather was going to be really warm, I didn't want to run around to a bunch of different stores. I picked the two least expensive stores in our area to shop and got my shopping done in about an hour. And back home into the air conditioned house. 🙂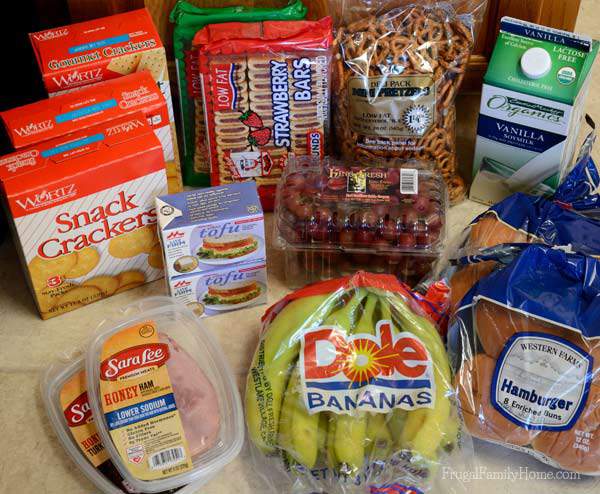 Grocery Outlet Purchases
2 Sara Lee Lunchmeat $1.99 each
Bananas $1.99
2 Hamburger Buns $1.19 each
Grapes $2.99
Soy Milk $1.99
2 Tofu $.99 each
2 Snack Crackers $1.59 each
Gourmet Crackers $1.69
Pretzels $1.59
2 Cookies $1.99 each
Total Spent $25.65
I was thrilled to find 11 pounds of asparagus for just $2. I stood there in the store wondering if I had enough room in the freezer to blanch and freeze it. I decided that since the price was so good, whatever we couldn't use or store I would be shared with the neighbors.
I ended up blanching and drying most of the asparagus for soups and quiche this fall. Did you know you can dry asparagus? I didn't until I check my Ball Blue Book. (affiliate link)
I roasted some of the asparagus for our dinner and gave away some to our neighbors. I love getting good deals and being able to share with others.
Everyday Deals Extreme Discount Purchases
11 pounds of Asparagus $2
2 Tofu Dip $.50 each
2 Oscar Mayer Selects Hot Dogs $1 each
2 Iceberg Lettuce $.29 each
Cabbage $.39/lb
5 boxes Granola Bars $1 each
2 boxes Fruit Snacks $.50 each
4 bags Vegan Cheese Puffs $.50 each
2 Cookies $1 each
Total Spent $16.27
That brings my grocery spending for this week to $41.92. I am so glad we have some good discount grocery stores to shop when I don't feel like couponing or going to a few different store for the deals.
If you live in the Portland area, there is a $10 off $50 coupon for Safeway that is good until July 8th. I found mine in the Food Day. There's also a few coupons for John Morrell products in the paper too. Don't want you to miss them. 😉
Did you find a great deal this week while grocery shopping?