I went to two stores this week. I was hoping to find more produce deals at Everyday Deals Extreme Discount, but there just weren't that many to be had. I did find blueberries at a great price and Romaine lettuce for just $.25 each, so I really can't complain too much.
I also found this delicious Dannon yogurt. It's blueberry cheesecake flavored. It's really more of a dessert than a yogurt and it's so good. If you find it at your local grocery store it's definitely worth a try. I found a great deal on them at Everyday Deals Extreme Discount and now I wish I would have purchased a few more.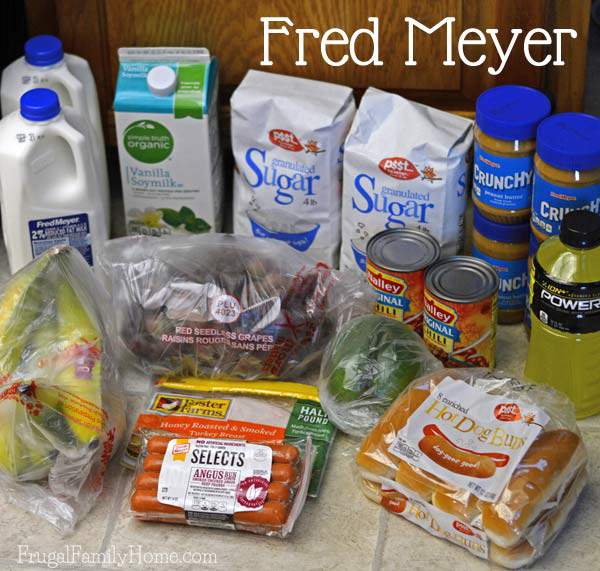 Fred Meyer had some good deals this week. I was able to purchase milk for $1. I was also walking through the store and saw they had peanut butter for $1.50 each, which is a better buy than at Costco so I picked up a few. If it was in the ad this week, I missed it.
We are having family visiting this weekend so I needed an easy lunch for Saturday,  I picked up hot dogs and chili to make chili dogs. I found the Oscar Mayer Selects beef hot dogs on sale for $3. Which I was happy to see, the regular beef hot dogs were over $5 a package. I like being able to find a healthier hot dog at a good price. Plus feeding everyone for just over a $1 a person is a good deal too.
Fred Meyer Purchases
4 Peanut Butter $1.50 each
2 Milk, half gallon $.99 with in ad coupon
2 Nalley Chili $.99 each with in ad coupon
Oscar Mayer Selects Beef Hot Dogs $3
Hot Dog Buns $.99
2 pkgs Sugar $2.19
Organic Soy Milk $2.79
4 Powerade $.59 each with in ad coupon
Lunchmeat $2.99
Grapes $1.28/lb
Bananas $.69/lb
Green Pepper $.89 each, I wish I could have found this at Everyday Deals Extreme Discount, they are usually $.33 each there.
Total Spending $32.32
Like I mentioned above there just wasn't much for produce deals this week but that's what happens when you shop a discount grocery store. But finding the yummy yogurt more than made up for it.
Everyday Deals Extreme Discount
4 Romaine Lettuce $.25 each
2 pints Blueberries $.50 each
Horizon Cookies $1
2 Big Ritz $1 each
2 Back to Nature Crackers $1 each
3 Creamery Cheesecake Yogurt $1 for all 3
2 Sandwich Cookies $.50 each
Starburst Jelly Beans $1.59
Total Spent $10.59
I didn't need to stop at the bread store this week since we still have bread in the freezer. It's almost time for me to start making my bread at home since the weather is getting cooler. Although it warm again this weekend. By next month, I should be able to bake at home more often.
That brings my spending this week to $42.91.