This week I made a trip out on Friday night to do my grocery shopping. I was surprised at how much busier Everyday Deals Extreme Discount was. I usually go on Saturday mornings and they aren't usually that busy but last night they were.
But I'm glad I went because I found a great deal on grapes and organic bananas. I also picked up a few more fruit snacks for the kids along with a few packages of cheap cookies for my husband's lunches.
My other stop this week was at Fred Meyer. They had quite a few items we needed at good prices. The prices at Fred Meyer are good through today, so if you need milk, chicken, or cheese be sure to stop by before they close.
Everyday Deals Extreme Discount Purchases
4 pkgs Fruit Snacks $.25 each
4 pkgs Cookies $.50 each
4 Romaine Lettuce $.25 each
Organic Bananas $.29/lb
Nectarines $.69/lb
Grapes $.49/lb
2 Graham Cracker Cookies $1 each
Total Spent $9.39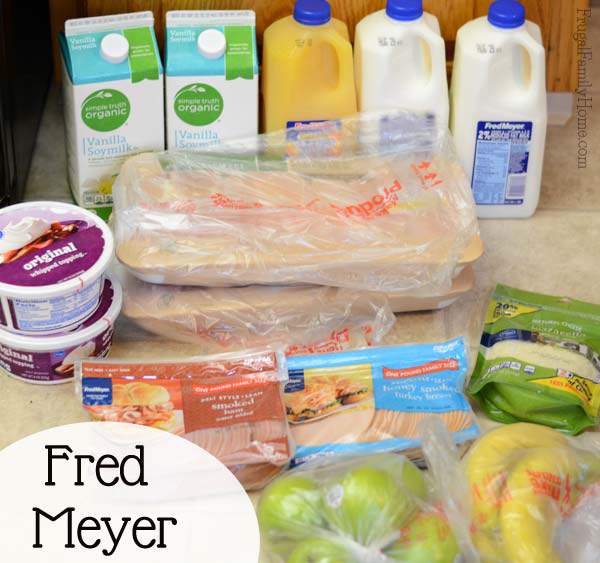 Fred Meyer Purchases
2 pkgs Lunchmeat $3.29 with in ad coupon
2 Whipped Topping $.89 each
1 Mozzarella Cheese $1.67 with in ad coupon
Granny Smith Apples $.99/lb
Bananas $.69/lb
2 Soy Milk $2.79 each
2 half gallon Milk $.99 each
half gallon Orange Juice $.99
Boneless Skinless Chicken Breasts $1.99/lb
Total Spent $39.51
That brings my total spending for this week to $48.90. I'll be making a few chicken meat packages for the freezer and cooking a few of the chicken breasts to have cooked chicken ready to go in the freezer for quick dinners.
What deals did you find this week while shopping?
[signoff]