I wasn't going to shop at all this week, but Grocery Outlet had ham on sale for just $1.49 per pound. Since my husband's family was coming to visit, I picked one up to make for an easy dinner. Easy is alway good when you have family visiting.
Leave it to me to pick the only ham without a price tag on it. They had to send it to the back to be weighed and tagged. Then bring it back up. They were busy and I hated holding up the line like that. But it did give me a chance to chat with the cashier a little.
She noticed I found a great deal on cereal at just $.77 a box. I purchased 3. I was using good restraint and that was all I could fit into the little basket I grabbed to shop with, since they were all out of carts. Yes, they were that busy. She asked if it was good. I told her we had never tried it but my family isn't too picky about the cold cereal they eat.
I picked up a big ham at over 8 pounds. So we will have ham for our dinner this weekend and leftovers for the freezer too. I'll be putting the ham bone into the crock pot to make some nice ham stock for split pea soup. Yum!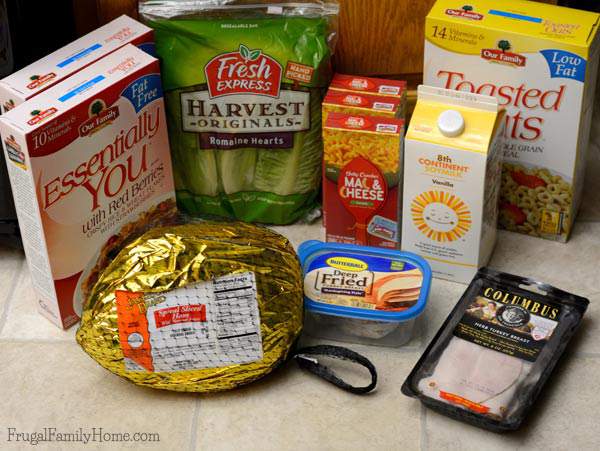 Grocery Outlet Purchases
Cheerios, off brand $.77
2 Strawberry Flake Cereal $.77 each
Romaine hearts $2.49
2 packages Lunchmeat $1.99 each
Ham $1.49/lb
8th Contenient Soy Milk $2.79
3 packages Mac and Cheese $1
Total Spent $24.98
That's all of the shopping I did this week. I did get my kids Christmas presents ordered this week from Amazon. So My Christmas shopping is done too. Now just to get the Christmas Candy and Cookies done and we will be all set.
Did you find any great buys this week, while shopping?
[signoff]