I was so excited to see such a good deal on strawberries this week. At Everyday Deals Extreme Discount last week I found 1 pound packages of strawberries for $.79 each. This week I found 2 pound packages for just $1, $.50 a pound. It was such a good deal, I went ahead and bought 8 pounds of strawberries. I dehydrated 6 pounds right away and then kept 2 pounds for us to eat. They weren't super sweet but they were good.
Purchases from Everyday Deals Extreme Discount
4 packages Strawberries $1 each
2 packages Tortillas $1 each
2 heads of lettuce $.29 each
4 five pound packages of Organic Yellow Potatoes $.50 each
2 packages of Cookies $.50 each
Dog treats $2
Totals spent $11.58
I made a trip to Winco Foods to pick up a few items we were running low on. I usually only shop once a month at Winco Foods, but since the items I needed are usually priced good at Winco Food, I stopped there this week. My son had asked a few times last week if we could have hot dogs for lunch. We didn't have any so I picked up a package for lunch this weekend.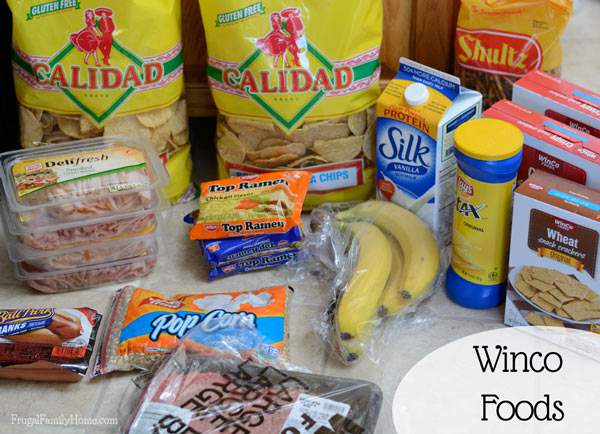 Winco Food Purchases
Silk Soy Milk $2.99, used $1/1 printable, paid $1.99
Hamburger $3.38/lb (a little high but not too bad)
2 Ritz type Crackers $1.72
Wheat Thins type Crackers $1.58
Lays Chips $1.26
Popcorn $1.96
Banana $.58/lb
Hot Dogs $1.78
Pretzels $1.88
3 packages Lunchmeat $1.99 each
2 Tortilla Chips $3.08 each
3 Ramen Noodles $.18 each
Total Spent $35.70
I also picked up 4 loaves of organic bread and 1 package of whole wheat hot dog buns at the Franz Bread Store for $5.
That brings my total spent this week to 52.28. That's a little higher than it's been lately but we were running low on a few things that weren't on sale.
How did you do on your grocery shopping this week. Did you find any really good deals?
[signoff]