I know I mentioned this before, but I'm such a hot weather wimp. Since all last week it was in the upper 90's, I didn't go out much. I did make it out, one morning early, to pick up a few good deals from Fred Meyers. Even the heat couldn't keep me away from the $.99 strawberries. If you have a Fred Meyer close to you, the sale is through today. I'm thinking about going back and getting a few more packages of them.
I noticed in the ad that the Skippy small jars of peanut butter were on sale for $1.99. My plan was to purchase one or two jars. But when I arrived at the store, I noticed the Fred Meyer brand was a better price. It's always good to double check prices, even when you are purchasing a sale price item. Sometimes the store brand is still a better deal. Ok, here's what I purchased this week.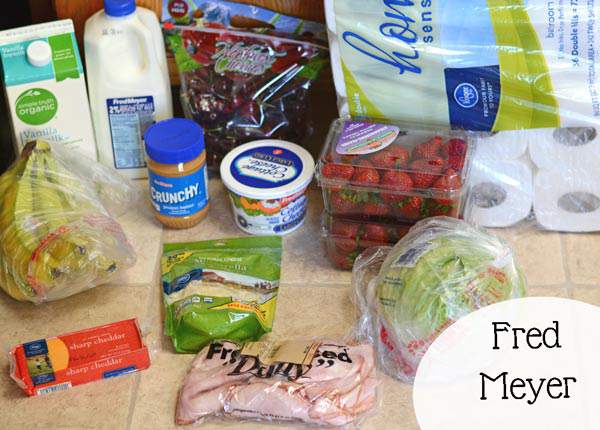 Fred Meyer Purchases
Kroger cheese $1.67 each with in ad coupon
Lettuce $.99
Bananas $.69/lb
Honey Ham Lunchmeat $5.99/lb
Strawberries $.99/lb
Cottage Cheese $.99 with in ad coupon
Peanut Butter $1.79
Milk $1.79 half gallon
Simple Truth Organic Soy Milk $2.50 used $.40/1 coupon, Paid $2.10
Cherries $2.49/lb
Home Sense Bath Tissue $10.99 with in ad coupon (same price as Costco)
Total Spent $37.81
That's all the shopping I did this past week. I didn't stop at the bread store or do any discount grocery store shopping. I hoping to get to both of those stores this week.
Did you find a really good deal? I'd love to have you share them in the comment below.
[signoff]
See more of my shopping trips by clicking here.