Last month I took a break from sharing my shopping trips. I wanted to stick to the 31 days of Frugal Homemaking series for the month. But just this week,  I realized I hadn't posted any of my shopping trips for this month yet. I did make one big trip to Winco Foods to pick up all the main ingredients for our dinners until the end of the year.
I'll also be going back to pick up supplies for making cookies and candy for Christmas. I usually do one trip to just shop for my baking items. Until end of the year, I will just be shopping for our fresh food needs, stocking up on good deals and picking up anything I might have forgotten on my big trip to Winco Foods.
This past week, I made a trip to Grocery Outlet. I really like shopping this store. But like any other store you have to really watch your prices. Their milk for a half-gallon is $.43 more than Fred Meyer regular price and $.29 more than Trader Joe's. I also found that their chili was twice the cost per same sized can than Winco Foods.
It's a great store to get some really great deals if you know your prices. Here's the deals I found at Grocery Outlet this week,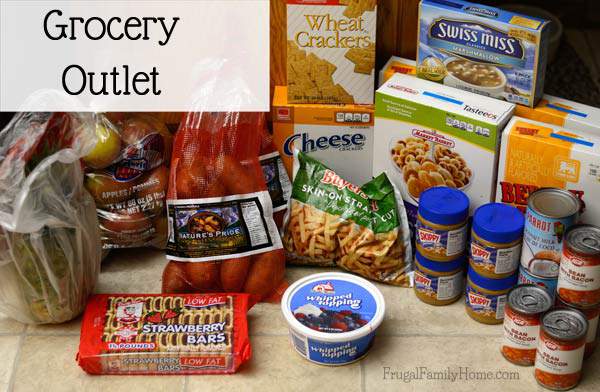 Grocery Outlet Purchases
5 pounds Fuji Apples $2.99
Pineapple $1.99
2 three pound bags of Yams $1.99 each
Frozen Fries $.99 (treat for the kids)
Cheese Cracker $1.17
Wheat Thin type Crackers $1.49
Cheerios Cereal $1.49
3 Berry Cereal $.87 each
4 Skippy Peanut Butter $1.79 B1G1 Free $.90 each after discount
2 Coconut Milk $.99 each
4 Bean and Bacon Soup $.50 each
Whipped Topping $.92
Cocoa Packets $.99
Strawberry Bars $1.99
Total Spent $28.24
That's the best deals I found this week. I'm hoping to make it out to Everyday Deals, later this weekend. I want to see if they have any good deals. I also need to pick up some bread at Franz Bread Store.
I think my best deal for this week would either be the bean and bacon soup for $.50 a can, that is about half off from Winco's best price. Or maybe it was the cereal for $.87. I was happy to get the yams for $.66/lb. Everywhere else they are $1 to $1.50 a pound, which seems crazy high to me.
What was your best deal this week? Scroll down and share it in the comments below. 
[signoff]