This week, I was really quite lazy about getting any grocery shopping done. I just didn't feel like going out to shop. Any of you feel that way too?
I made one trip to Safeway this week. I'm glad I took a detour to check out the meat markdowns. I found some grass-fed lean ground beef for $3.50 a pound. That was half the normal price. Their regular ground beef was $3.99 per pound so the mark down packages were really a good buy. I only wished they had more than three packages left.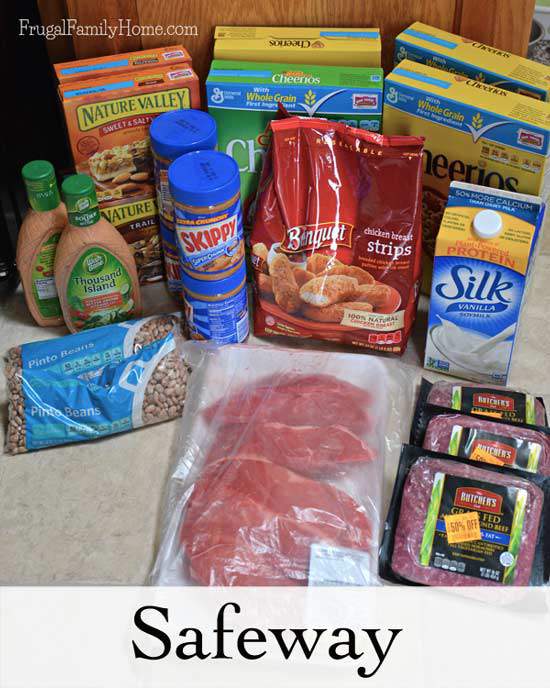 I purchased the package of chicken strips for my son. He had really been wanting chicken nuggets. So I made us chicken strips sandwiches for lunch that day. It ended up being less expensive than going out. But I still have trouble spending that much money for such a small amount of not so good for you food. But it was a treat.
Safeway Purchases
3 package of Grass Fed Beef $3.50 each
Sirloin Steaks $3.99/lb
2 Pinto Beans B1G1 Free with coupon
4 Skippy Peanut Butter $1.99 with in ad coupon (we were almost out so I stocked up)
4 Nature Valley Granola Bars $1.49 wyb 4, used 4 $.50/1 coupons and doubler, Paid $.50 a box
4 boxes Cheerios $1.49 wyb 4, used $1.10/2 coupons, Paid $.94 each
Silk Soy Milk $3.69, used $1/1 coupon, Paid $2.69
Chicken Strips $3.99
Used $10 off $50 purchased
Total Spent $45.00
That brings my spending to $45 for this week. I'm hoping to find some good meat deals since we are running low on beef in the freezer.
With the rising prices of beef in our area, I'm seriously considering buying 1/4 of a cow for our beef from the local meat market. It's almost a dollar a pound less than the current prices in our area. My mom used to buy half a cow and half a pig each year for our meat but I haven't ever given it a try. Anyone have advice on doing this?
What was your best deal this week?