This week's shopping was a little weird. I went shopping for the first time in two weeks to my favorite discount grocery store, Everyday Deals Extreme Discount. While there, I was run into by an older lady, who immediately yelled at me that it wasn't her fault and that it was my people who bring this on. I don't know what she meant by "my peoples" but it's never a dull moment at that store. I have actually seen some crazy stuff at that store.
I also did some coupon shopping this week, which I haven't really done in a while. I was just not in the couponing mood for a couple of months. But this week I went out to grab some good deals at Albertsons and Safeway.
I also had a coupon from Con Agra. I called because I purchased a few packages of Brown and Serve sausage, there was supposed to be 10 links in each package,  but three packages I bought only had 8 links. I gave them a call and they sent me out a $1 off coupon. Not bad for a few minutes of work.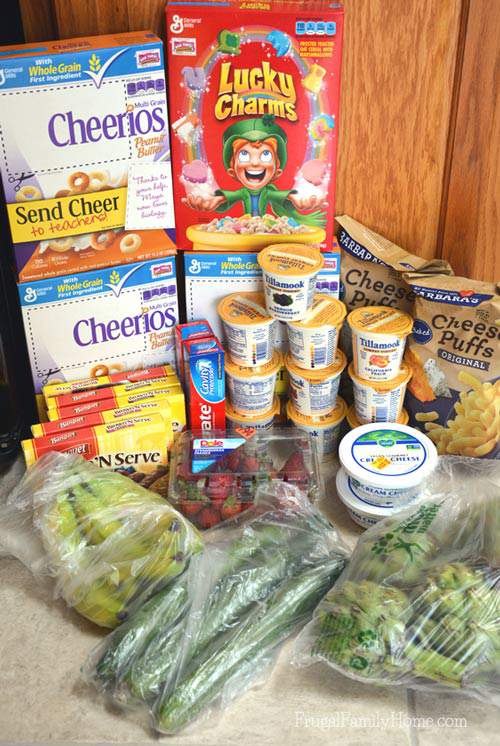 Albertsons Deals
10 Tillamook Yogurt $.38 each with in ad coupon
Bananas $.50/lb
3 Multi-Grain Cheerios $1.67, used $.75/1 coupon Paid $.92 each
Lucky Charms Cereal $1.67, used $.50/1 coupon, Paid $1.17
Total Spend $8.39
Safeway Deals
I was hoping to get some cheap bath tissue but the Angel Soft coupon was for double rolls instead of single rolls that were on sale.
2 Colgate Toothpaste $.99 each, Used $.50/1 coupon + Doubler, Free after coupons
5 Brown and Serve Sausage $1 each, Used $1/1 coupon + Doubler, Paid $.70 each
Total Spent $3.50
Everyday Deals Extreme Discount
4 Artichokes  $.25 each
3 English Cucumbers $.33 each
Strawberries 1 pound $.79
2 Barbara's Cheese Puffs $.50 each
2 Vegan Cream Cheese $.50 each
Total Spent $4.79
That brings my total for this week to $16.68. Not too bad for all the items I was able to pick up this week.
What kind of deals did you find this week while grocery shopping?