This past week was a little warm. Most people would have said it was quite nice. But for this cool weather loving gal it was a little warm. This week promises to be downright hot. So I won't be doing too much shopping this week either.
I went to Safeway this week to pick up a few things and to use my $10 off $50 coupon. My husband had been wanting to grill ribs and Safeway had a coupon on pork ribs for $2.48 per pound.
He was really happy that I picked them up. They ended up costing $12 which is a little steep for out budget but eating out ribs for our whole family would have cost us over $30 so it was a good deal. Plus my husband got the pleasure of grilling them himself, and I got the night off from cooking.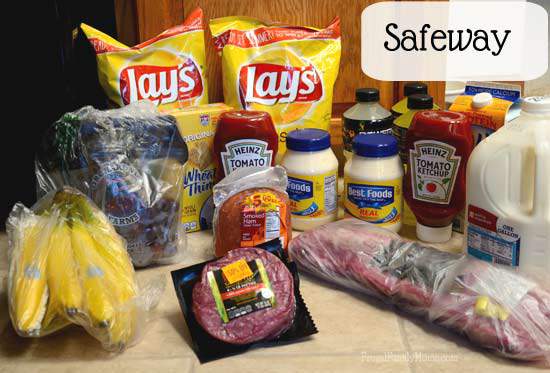 My Safeway Purchases
2 Lays Chips B1G1 Free $2.15 each
Pork Ribs $2.49/lb
Bananas $.54/lb with Just for U coupon
10 pound bag Potatoes $1.99 with Just for U coupon
Wheat Thins $1.77 with in ad coupon
Silk Soy Milk $2.99 with in ad coupon
2 Best Foods Mayo $1.38 after coupons and doubler
2 Heinz Ketchup $1.29 after coupons and doubler
3 Powerade $.69 with ad coupon
Smoked Ham $5
Milk $2.89
Cherries $2.99/lb
2 packages Grass Fed Beef Patties 50% off $3.50 each
Used $10 off $50 coupon
Total Spent $47.11
That was all the shopping for this week. I didn't want to be running to a bunch of stores while it was warm and we are starting to remodel our bathroom.
This upcoming week, I'm sure I will just go to one store and that's it. It suppose to be close to 100 for the next few days so I think I will be hanging out in the air conditioning, working on the painting I need to get done.
What deals did you find while shopping this week?