This past week it has been in the 90's each day. Today is our first cooler day and I'm so happy to have it. I just hate going out in the heat, I'm a real wimp when it comes to hot weather. I'm so happy I have a stocked pantry. I only had to pick up a few things this week. I hoping next week will be a little cooler.
If you live in the Portland area and you will be shopping Safeway this week, be sure to grab the $10 off of $50 savings coupon out of the Food Day. I don't know if I will make it to Safeway before it expires on Tuesday but I wanted to mention it, just in case you missed it in the paper.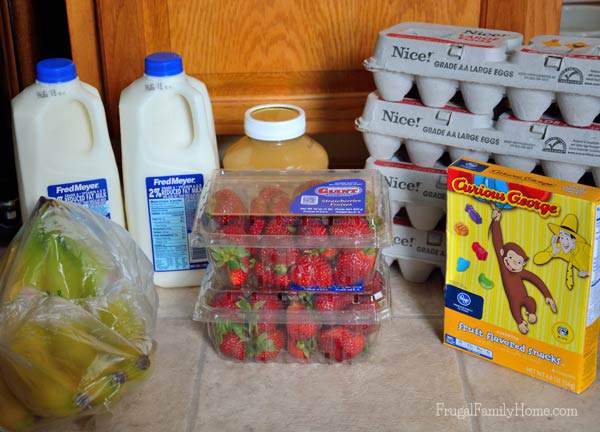 This week I stopped at two stores, Fred Meyers and Walgreens. Walgreens had a great sale on eggs, just $.99 a dozen. That sale price is only good through today so get out to Walgreen today, if you need eggs.
Fred Meyer Purchases
2 half-gallon Milk $1.25 each
2 Strawberries $1.88 each
Applesauce $2.29
Bananas $.64/lb
Fruit Snacks $1
Total Spent $11.67
Walgreens Eggs $3.96
Total for this grocery spending for this week is $15.63.
What good buys did you find while grocery shopping this week?