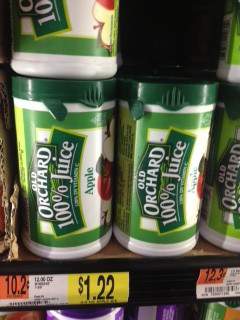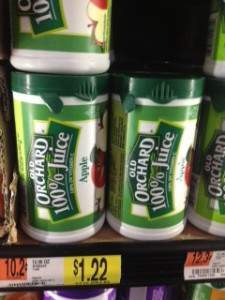 Here is this weeks list of the top 10 deals for under $1. Thanks to Paul at I Heart the Mart for compiling this list. You can see his full list of under $1 deals here.
Top 10 Under $1 Deals
1. Old Orchard Apple Juice: $1.22
$1.00 off 4 Old Orchard frozen juice concentrates
Pay $.97 each!
2. Nature Made Vitamin D: $2.70
$2.00 off any (1) Nature Made Vitamin D product
Pay $.70
3. SeaPak Shrimp Poppers: $1.67
$0.75 off any ONE SeaPak product
Pay  $.92
tal:
4. Depends Trial Kit
$2.00 off ONE (1) package of DEPEND Products
Pay $.47
5. Hormel Chili w/Beans – $1.00
$0.55 off 2 HORMEL Chili products
Pay $0.73
6. Poise Wipes: $2.97
Free Poise Body Cooling Towlettes, 2/3 SS
FREE (Store Coupon with a Price)
7. Bic Comfort 3 Advance: $2.96
$2/1 Bic Comfort 3 Advance, Flex3, Flex4, Hybrid Advance 3 or Hybrid Advance 4, 2/3 SS
Pay $.96
8. Colgate Toothpaste: $.94
$0.50/1 Colgate Toothpaste, 2/3 SS (regional)
Pay $.44
9. KY Jelly: $2.84
$2/1 K-Y Product, 2/3 SS
Total: $.84
10. Little Debbie Oatmeal Cream Pies – $1.70
Little Debbie $.75/1 box snacks 2/3 SS (regional)
Total: $0.95
Coupons Expiring Soon,
Poise Wipes – $2.97
Free Poise Body Cooling Towlettes, exp. 2/13/13 (SS 02/03/13)
Total: FREE
Purina One Beyond Cat Food – $2.57
FREE Purina One Beyond Cat Food, exp. 2/13/13 (RP 01/13/13 R)
Total: FREE
Reach Floss – $0.97
$1/2 Reach Floss or Access Product, exp. 2/6/13 (SS 01/06/13)
Total: $0.47
Dial Liquid Hand Soap 9.4oz – $1.27
$1/3 Dial Liquid or Foaming Hand Soap, exp. 2/10/13 (RP 01/13/13)
Total: $0.94
Neosporin Lip Health – $2.50
$2/1 Neosporin Antibiotic Ointment or Lip Health Product, exp. 2/6/13 (SS 01/06/13)
Total: $0.50