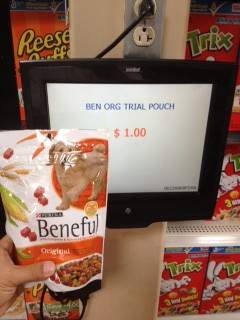 Here are this week top 5 coupon match ups for the week. Three items that come out to better than free and a couple really good deals too. Thanks to Paul at I Heart the Mart for these match ups. 
Top 5 Coupon Deals
Purina Beneful Dog Food Pouch – $1.00
$2/1 Purina Beneful Dog Food, 2/10 SS
FREE +$1.00 Money Maker
Wet N Wild Nail Polish – $0.93
Wet n Wild $1/1 product 2/10 RP
FREE + $0.07 overage!
Poise Wipes or Wash -$2.97
$3 off Poise feminine wellness item, excl trial size 2/10 SS
FREE + $.03 overage
Colgate Toothpaste – $0.94
$0.50/1 Colgate toothpaste, 4 oz+ 2/10 SS
Pay $0.44
Nivea Body Lotion: $2.72
$2/1 Nivea Body Lotion, Q10 Serum, Gel, Firming, Sun-Kissed or For Men Body Lotion, 2/10 RP
Pay $0.72
See the complete list of coupon match ups here.