I went to Walgreens on our way to church today. I was able to get the Goody hair clips in one transaction and use the register reward from the first transaction on the second one. This way I don't have to worry about my register rewards expiring before I can use them.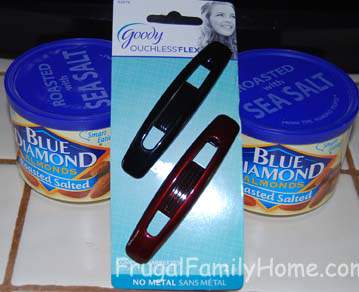 Transaction #1
Goody Hair Clips $2
Paid $2 received a $2RR
Transaction #2
2 Blue Diamond Almonds B1G1 $3.79 for 2
Used $.60/2 coupon 5/13SS
Used $2 RR from Transaction #1
Paid $1.19 for both cans of Almonds
They also have Old Spice Body Wash on sale $6.99 for two and get $2 RR but my store was out of that item.
Did you do any drugstore shopping today?
[signoff]