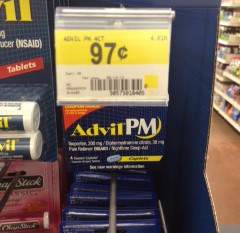 Here are the top 5 Walmart deals this week.
Some of the coupons may vary in value in different areas. Some coupons may be regional. Store prices do vary by region also. Your store prices may be different from those listed here.
Advil PM: 4ct – $0.97
Use Advil $1/1 PM product 10/28 RP
FREE
Old Wisconsin – $1.25
Use Old Wisconsin $1/1 4oz+ snack bites, snack sticks or summer sausage, 10/28 SS
Pay $0.25
Buddig 2oz package – $0.50
Use Buddig $1/4 original 2oz packages , 10/28 SS
Pay $0.25
Carefree Liners – $0.97
Use Carefree $.50/1 product 10/28 SS
Pay $0.47
Dawn 14oz – $1.08
Use Dawn $.50/1 coupon 10/28 PG
Pay$0.58
To see the complete match-ups from this Sunday's coupons go here, or to see the full list of Walmart deals under $1 go here. Thanks, I Heart The Mart.