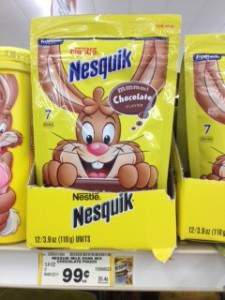 There was only one coupon insert this week in the Sunday paper. Here are the best deals at Walmart with the coupons from 2/17 Red Plum. Thanks to Paul at I Heart the Mart for this list. Also remember prices can vary from region to region with Walmart so the prices at your store may be different from the ones listed.
Top Coupon Deals 2/17 Red Plum
Nesquik Powder $.98
$.50/1 Nesquik Powder, 2/17 RP (regional)
Pay $.48
Renuzit Indulgences: $1.18
$0.50/1 Renuzit Tempting Indulgences Adjustable Air Freshener 2/17 RP
Pay $.68
Venus Embrace Razor: $5.97
$3/1 Venus Razor 2/17 RP
Pay  $2.97
See the full list of coupon match ups here.