We all want to get our kids gifts they will love. But do we really need more plastic toys cluttering up the home? I know I don't, that's why I love to get my kids gifts that spark their creativity.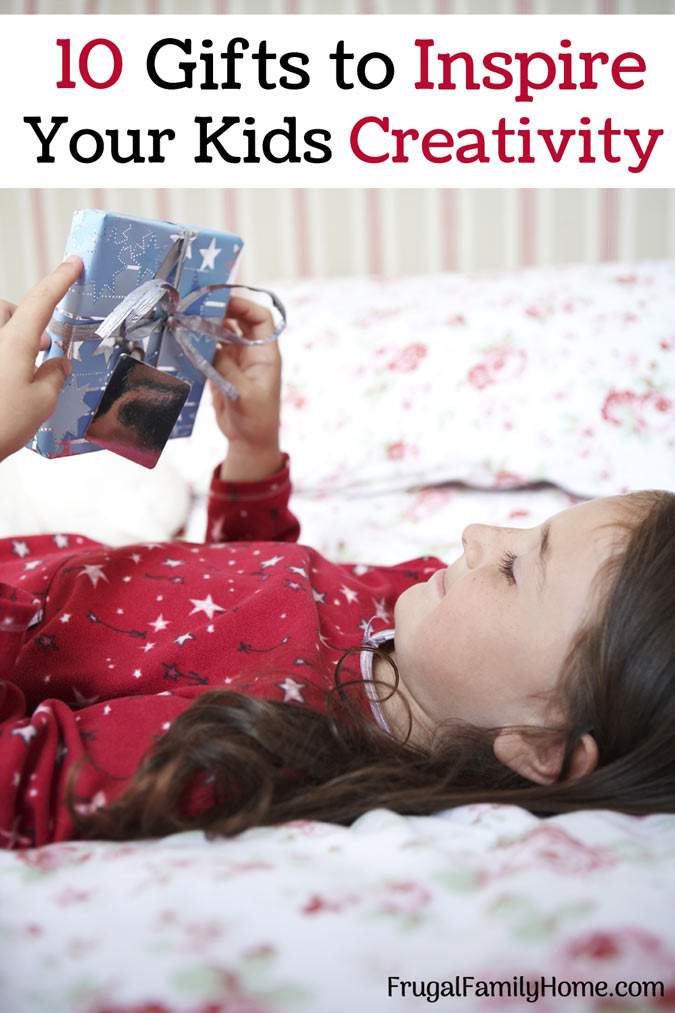 Most of these gift recommendations are gifts my kids have received and loved. When my kids receive a gift that not only entertains but can teach or help them create it's a great gift indeed.
I tried to keep the prices on this list reasonable too. Because I know it's hard to stay on budget when you are shopping for Christmas, so you won't find any hugely expensive items on this list. Most are around $20 or less with a few just above that amount.
10 Gifts to Inspire Your Kids Creativity
So many adults are embracing coloring, don't let your kids get left out. Get them a few coloring books of their own. We love the Dover coloring books. They have many themed books for many different interests. We love that there is a lot of variety but also we love the price. Most are priced between $3-5. There are nature coloring books. There are fashion coloring books, history coloring books, and even car coloring books. A good enough selection to please any child.
Be sure to purchase a set of nice quality coloring pencils or pens for them to color with.
Another way to get your kid creating is with building kits. Legos are great for kids to create with. My son will spend lots of time sitting and building with his Legos. You can get a general building box for your kids to create whatever they dream up to make.
Or get more specific with a kit that fits their interests, like airplanes, Star Wars, or space.
Or for girls try the Disney Princess Lego kits, or friends Lego kits. Although girls and boys would enjoy almost any of these sets.
One way to spark your kids creativity is to give them a box of clay and let them create. This kit of air dry modeling clay is just perfect. If you are concerned about your kids not putting the clay away properly and it drying out with the air dry clay, try the oven baked clay instead.
Let the kids unleash their creativity in any way they want by supplying them with these all in one art kits. With crayons, pencils, paint and more your kids will have lots of supplies to work with. Add in a drawing pad, construction paper, and a pair of scissors and your kids can be occupied for hours.
My son loves Star Wars and loves robots. He has had a few kits in the past and loved building and playing with them. This solar robot kit is one he wants for this year. He had a tin can robot kit and he loved making it but it didn't last too long since he played with it all the time.
While your kids might not enjoy learning about science from a textbook there is just something about experiments that most kids can't resist. My son loved his Kitchen Science kit. My daughter has enjoyed over the years making solar prints, and growing crystals. Science kits can be fun and educational. Plus most contain everything needed so you don't have to run to the store to get supplies.
Kids love stories why not have them write their own story in their own journal. They are many to choose from for all kinds of kids. There are write and draw journals for kids who like to illustrate and write. There are question a day journal for kids who need help getting the writing juices flowing. Or maybe a gratitude journal would be just right.
If you have a girl on your gift list who loves to paint her nails a nail kit would be a wonderful gift. My daughter loves to paint her nails and when she received this kit, she loved it. She also has this pen set for nails and they work great.
9. Knit or Crochet
Learning to crochet or knit is a craft that can produce items your kids will want to wear or use. To get them started grab a knitting book,  and needles to learn to knit and don't forget to include a few skeins of yarn. Or get a crochet kit instead.
If your kids want to create their own stuffed animals or learn to sew this little kit can get them started. Kids can learn to sew and make their own stuffed animals in the process with this cute sewing kit  or this make your own doll sewing kit.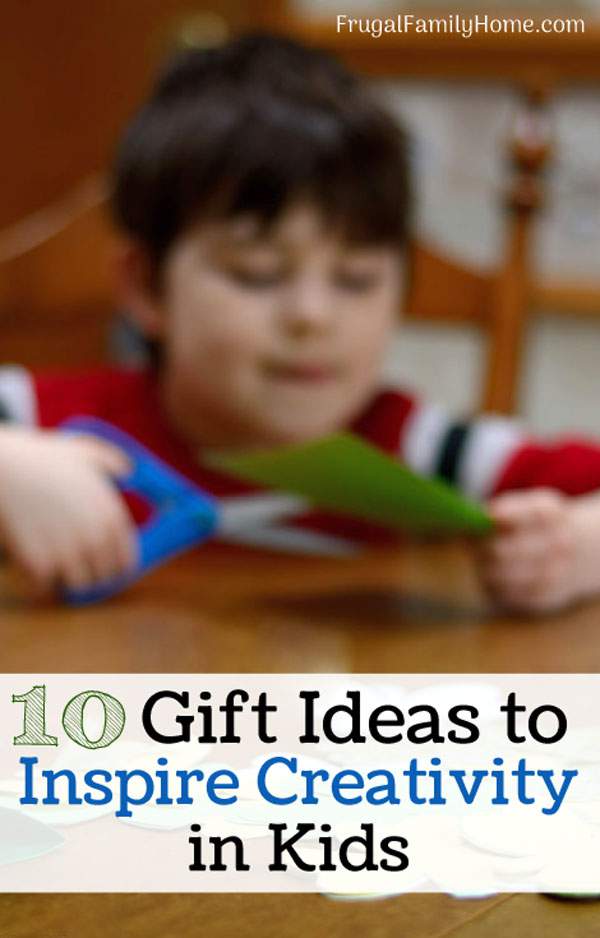 I hope these 10 gift ideas can help you find the perfect gift to spark creativity in your kids or the kids on your gift list.
What creative gift idea do you think your kids would love?