Easter is coming and if you need Easter basket ideas this list will help. It's full of non-candy Easter basket ideas for babies to teen and everyone in between.
Now is a great time to start stocking up on items to place in the kids Easter baskets. But my kids can't really eat candy. All that sugar just throws them really off and most candy has dairy in it too. So that means most candy is out for my kids.
If your kids are the same I'm sure you'd love to have a few non-candy Easter basket ideas. It doesn't matter the age of your kids, I have ideas for babies and teens and everyone in between.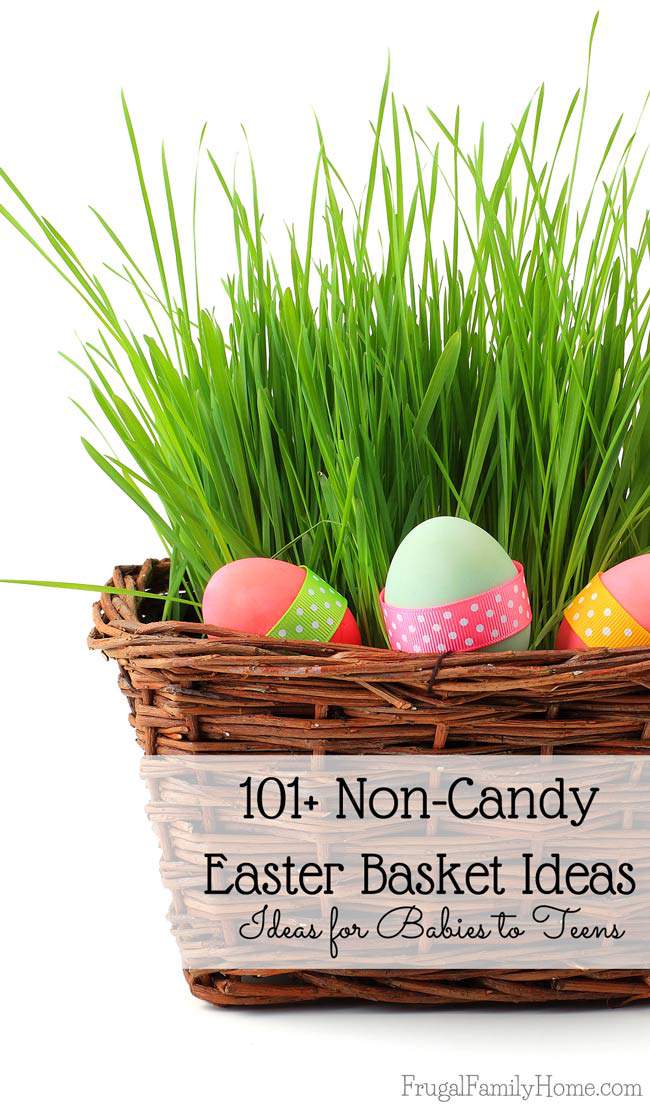 The links in this post are my referral links. When you use them I might make a little money at no extra cost to you, thanks for your support. For more information please see my disclosure policy.
Find a few non-candy basket ideas for your kids below. All the ideas are also budget friendly so you don't end up overspending to fill the basket.
Non-Candy Easter Basket Ideas for Kids
Baby to Toddler
Onesies
Socks
Bibs
Pacifier
Sippy Cups Sippy Cups
Stuffed Bunny
Bubbles or Touchable Bubbles
Blocks
Stacking Cup
Animal Markers Board Books
Toothbrush
Bath Toys
Bath Towel
Hat
Wooden Puzzles
Hair Bows
Head Bands
Easter T-Shirts
Bath Tub Crayons or Markers
Wind Up Toys
Blanket
Doll
Shorts
Dress
Little Peoples
Pull Toys
School Age
Match Box or Hot Wheels Cars
Toothbrush
Paint Set
Crayons and Coloring Books
Earlier Readers
Animal Story Books
Puzzles
Board Games
Kite
Rain Boots (it rains a lot here)
Rain Coat
Umbrella
Puppets
Sunglasses
Sandals
Craft Kits
Science Kits
Card Games
Marbles
Frisbee
Jump Rope
Bubble Bath
Mini RC Helicopter
Purse
Cars or Trucks
Silly Putty
Sidewalk Chalk
Paint Set
Paint by Number
Stickers
Pajamas
Squirt Gun
Rocket
Stickers
Magic Grow Rocks
Activity Books
Barbie
Barbie Accessories
Army Men
Ball and Jack
Flashlight
Harmonica
Paint with Water
Slinky
Magnets
Slime
Light Up Punch Balloons
Glow Sticks
Whistle
Yo-yo
Temporary Tattoos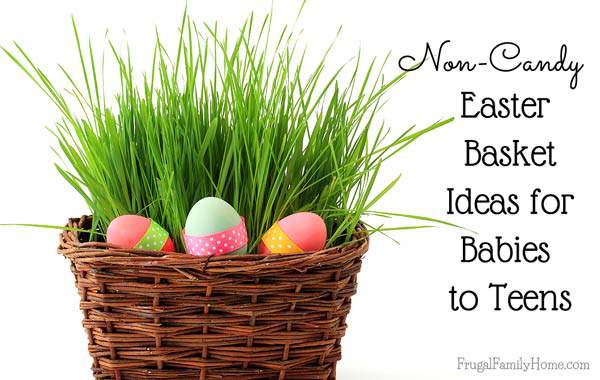 Teens and Adults
Watch
Craft Kits
Lip Gloss
Earrings
Phone Case
Purse
Wallet
Bracelets
Nail Polish
Necklace
Money
Ear Buds
Cosmetic Brush Set
DVD's
Makeup
Body Spray
Movie Tickets
Gift Certificates
Flip Flops
Body Butter
Adult Coloring Book
Charcoal Pencils and Drawing Pad
Watercolor Kit
Magazine Subscriptions
Those are my top non-candy Easter basket ideas for babies to adults. I hope you found a few good ideas to fill your kid's Easter baskets.
What else could you add to the list? I would love to hear your ideas too. Leave your ideas in the comments below.