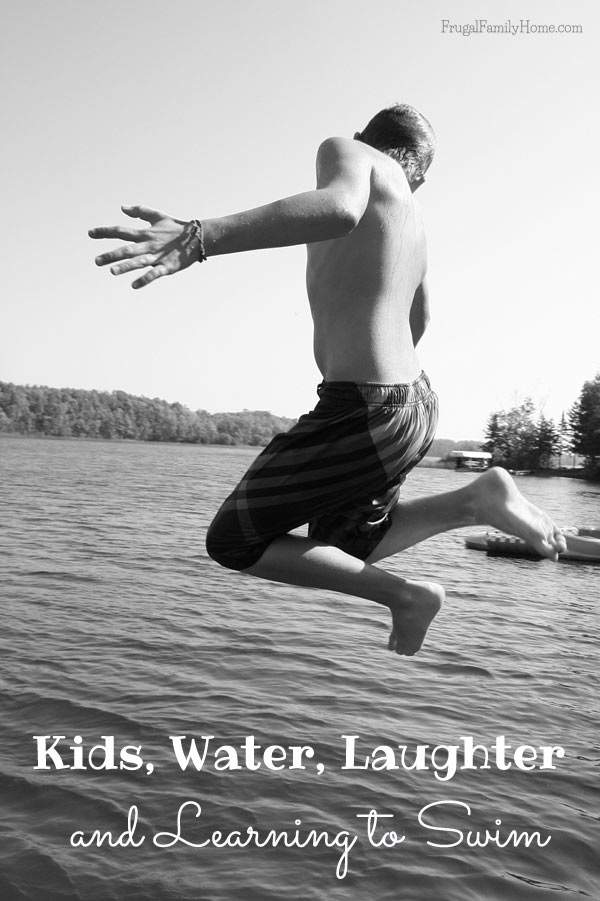 I know we are in the dead of winter right now. But now is the great time to think of the summer. I know this time of year, I'm so ready for the warm weather of summer. With summer comes water fun for the kids too. Kaitlin from An Apple Per Day is sharing how she introduced her kids to the fun of swimming at and early age.
When we started a family, I wanted my kids to enjoy the water as much as I did. I did some research on how to introduce them to the water in a way that reinforced the pool as a positive place to be. I also wanted them to learn water safety, so they would be aware of the need to be safe at the pool.
It can start early. If I just signed my child up for swim lessons when they were the appropriate age (around 3 or 4 to start), that could be a big adjustment for them. I wanted their introduction to the water to be gradual, so at every step they were given time to get used to it.
I took my baby to the pool (in swim diapers) and had my husband hold him sitting near the water while I went into the pool, and let him watch me laughing and playing. With the curiosity of kids, he soon reached out to me, and I took him in my arms, smiling all the time. That was enough for a first lesson, so we made that introduction short.
Here are some great resources with more information about kids and swim lessons:
Expanding the lesson. The next time I took my son to the pool, he was fine when my husband handed him to me in the water. I held him and let him look around. I began lowering us both into the water until it was up to his shoulders, and he thought that was particularly fun. I held him out from me, and we lowered ourselves a little more, and he watched me dip my mouth just below the water and blow bubbles. I then lowered him slowly until he could do the same, and the joy of blowing bubbles began.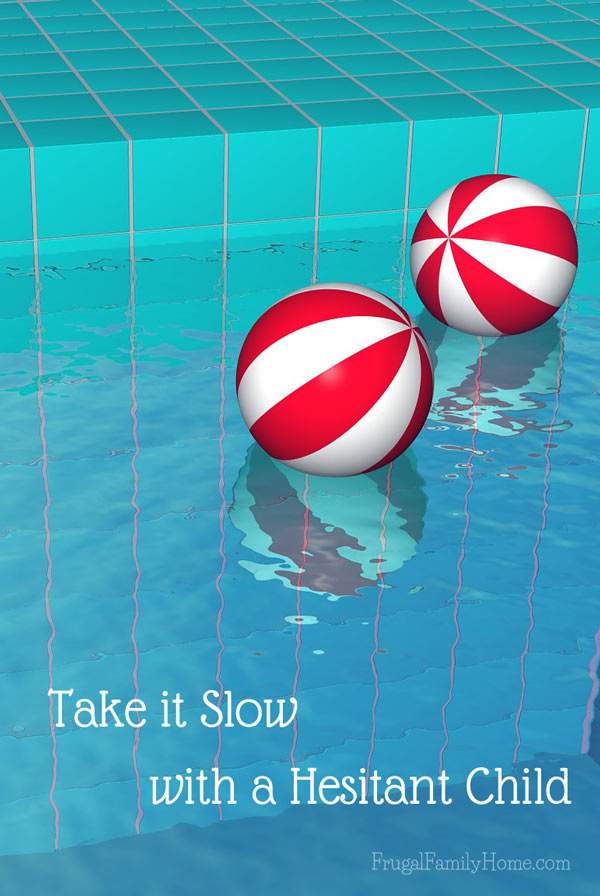 The hesitant child. While that process worked well for my first boy, my second child was much more cautious around the water. I could tell when we were in bath time that he wanted to investigate and check things out a lot longer than his more adventurous brother.
Since I wanted the water to be a positive, I didn't rush him. Our first several trips to the pool were very slow introductions to the water, in which my husband just held him so he could look around, gradually moving a little closer to the water. He watched intently as I smiled, laughed and splashed, and finally reached out and wanted me to hold him. From there, we did the same process as his brother, but in slower stages.
Learning to kick. I put my son on a kickboard, and began moving his feet for him, to show him how to kick the water. Since it made a very nice splash and a little noise, he quickly got the idea and thought it was fun, especially when I rewarded him with a big smile. He found it almost as much fun as blowing bubbles, but was learning an important swim skill while we did it.
Swim lessons. By the time I signed my sons up for swim lessons, they were very comfortable being around the water. I had taught them basic skills, and kept reminding them of safety rules like "no running at the pool." They paid good attention to the instructor, and only occasionally had to look over at me on the sidelines for reassurance. They have both now taken beginning and intermediate lessons, and the hesitant son now wants to be on the swim team.
I smile watching my boys in the water, because I've given them a skill that will lead to a lifetime of enjoyment.
Kaitlin Gardner started An Apple Per Day to explore her passion for a green living lifestyle, and healthy family living. She and her husband have just moved to rural Pennsylvania, where they enjoy exploring the countryside to discover interesting and out of the way places. She is also learning how to paint watercolors.