8 Ways Stores Encourage You to Buy and How to Avoid Them.
Have you ever went into a store for just an item or two and end up purchasing a lot more? Do you go into a store for just your coupon items but you purchase more? There is a reason for extra purchases. Here are 8 ways stores encourage you to purchase more and how to avoid them.
1. The layout of the store
The most purchased items are at the back of the store. You just need some milk or meat to make for your dinner. You enter the store but have to go passed all the other items to get to them. There are displays that stick out into the aisle to catch your attention(or your cart wheel) to get you to purchase them.
Solution Idea: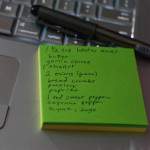 Make a list of what you need to get and just stick to what is on the list. If you keep focused on your list and getting those items you are less likely to get sidetracked into purchasing something you never intended to buy. I find by knowing my "buy price" I can avoid impulse purchases because I can be too cheap to spend the extra money. It doesn't work every time but having a set   price to buy at can help.
photo credit     
2. Music played in the store
The music that is played in the store is there to help set the mood and the tempo of your movement through the store. The longer you linger in a store the more you tend to spend.
Solution Idea:
Keep moving through the store at a good pace. Get to know your store so you can find what you need quickly. You can enjoy the music but keep your pace quick and see how fast you can get in and out.
3. The great smells in the store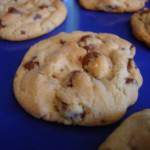 Some stores will pipe the smell of their fresh baking bread or cookies through the store. The smells wafting through the store help to make you feel hungry and in turn you tend to buy more.
photo credit 
Solution Idea:
Try to avoid shopping when hungry. Also by knowing that this is used to encourage you to buy more then you can be aware and avoid the impulse purchases.
4. Lighting
Stores use lighting to make produce more appealing. They also put produce and flowers at the front of the store for a beautiful entrance. Drawing you in with the beauty.
Solution Idea:
Even if produce looks appealing and produce is good for you, but if you over purchase more than you can eat it will just go to waste. So just make sure you can use all you purchase.
5. Shoppers Favorite or Managers Special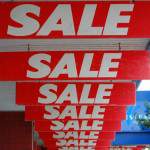 Stores will put on end caps or in other areas of the store their special deals. They may group like items together to encourage you to not just purchase one item but all the items that also can go with it. Such as the pasta noodles are on sale but they also add the pasta sauce and parmesan cheese with it on the same shelf to encourage you to purchase all the items not just the sales items. The stores know using these ideas will increase their sales.
photo credit     
Solution Idea:
If you find a deal on an end cap check to see if it is the best deal on that item. You might take a little walk down the aisle with that item to make sure there is not a better deal on a different brand. Just don't take it for granted that just because it is on special it is a good deal.
6. Lots of items at the checkout that beckon you to buy
While you are waiting in line you look over and see some candy or gum. There are also magazines and other items at the checkout. This is a prime spot for stores to sell impulse items.
Solution Idea:
I would say if you feel the pull to purchase items at the checkout line just look away. Try to concentrate on other things like checking your list or coupons one last time. Looking around to see what is going on or just people watch as you are waiting.
7. Higher priced items placed on shelf at eye level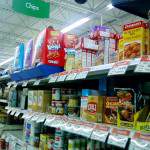 Stores will put their higher priced items or the items they want to sell the most of at eye level. They do this because most shoppers will not reach or lean down to get an item. Also the lower shelves are harder to read the price per unit prices.
photo credit   
Solution Idea:
Stretch and bend to get the best deals. The best deals seem to be up high or down low. Because we don't tend to look high or low these items will be overlooked more often. Give a glance to the upper shelves and lower shelves to check for the best buy.
8. Using Coupons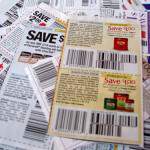 Stores and companies spend money to put out coupons. They would like you to use them the very next visit. This helps them move their more expensive items and they make more profit. There is a right time and a wrong time to use coupons.
                                                 Photo Credit
Solution Idea:
Combine sale items with coupons. By using a coupon with a sale price you can get items for free or for pennies. I only use  a coupon when it will save me money over the lowest priced item. At some stores the store brand is less than the national brand with a coupon. So just use your coupons wisely.
I hope these ideas with help you save money the next time you go shopping. Just knowing about them helps me to be aware of the tricks the stores use to get me to purchase items I never intended to buy.
What tricks have you noticed stores use to get you to purchase more? Have you fallen for any of these recently? How do you avoid impulse purchases? Leave us a comment and let us know.
A big thanks to Blogelina. If you are looking for information on how to succeed at blogging visit her blog at the link above. 🙂