I found this recipe in one of my mom's old recipe books from the 50's. I love using these old cookbooks. I have one from my great grandma that has a recipe for squirrel stew. I don't think I will be making that one soon as I don't come by squirrel meat too often, but this muffin recipe was one I wanted to try. The nut crumble topping sold me on it.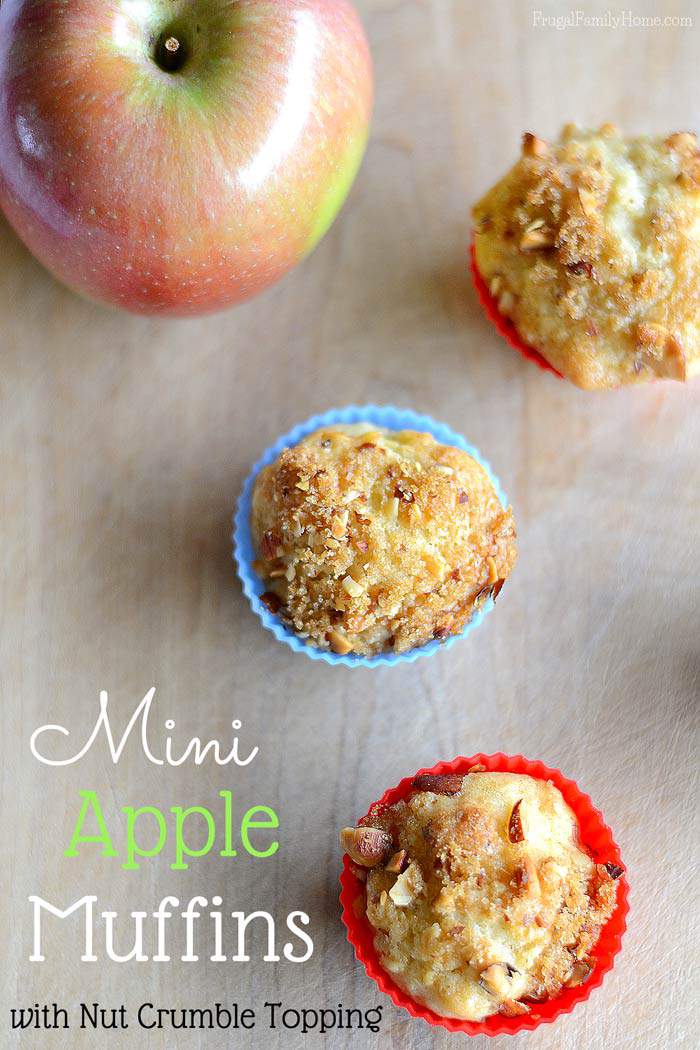 This recipe was originally written for a regular sized muffin, but my son really likes the mini muffins so I just adapted the recipe a little. Since the finished muffin size was smaller I wanted to be sure my grated apples weren't sticking out like a porcupine.
I grated the apples and then chopped them up a bit too. Making them shorter in length so they would be sticking out of the muffins. If you don't mind some of the grated apple sticking up out of the muffins you can skip this step.
I changed the recipe just a little. To make the recipe a little more frugal, I added in a tablespoon of soy flour in place of the egg. The original recipe also called for milk, which my family can't have, so I switched it out for soy milk. If you can eat dairy, just stick with the regular milk, if you need to eat dairy-free the soy, almond or coconut milk should work just fine.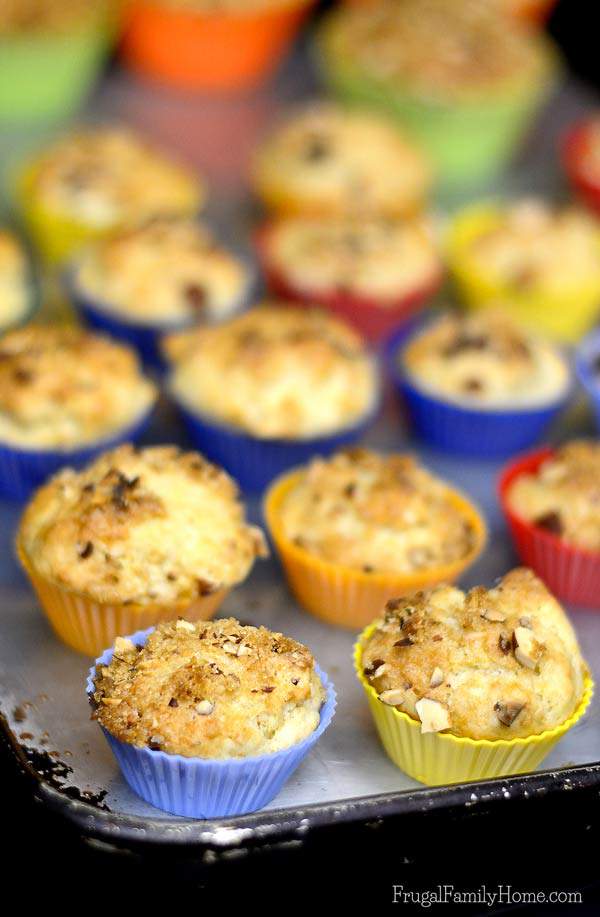 Do you see a pattern here? I hardly ever make a recipe the way it was written. I almost always have to alter a recipe a little to make it dairy free for my family, but I also like to use less expensive ingredients when I can.
One area I didn't skimp on is the nuts. If you don't have any nuts of hand, you can skip them and just sprinkle to tops of the muffins with brown sugar, for a little added crunch. But I love the flavor and crunch that the almonds add. There are so little in this recipe that it wasn't that much more to add them. But if you don't have almonds on hand, any nuts can be substituted in the recipe. I think peanuts might be delicious too.
I also cut back the sugar in the original recipe. I didn't think we needed the extra added sugar and they still turned out delicious.
Here's the printable version of the recipe so you can add it to your recipe file.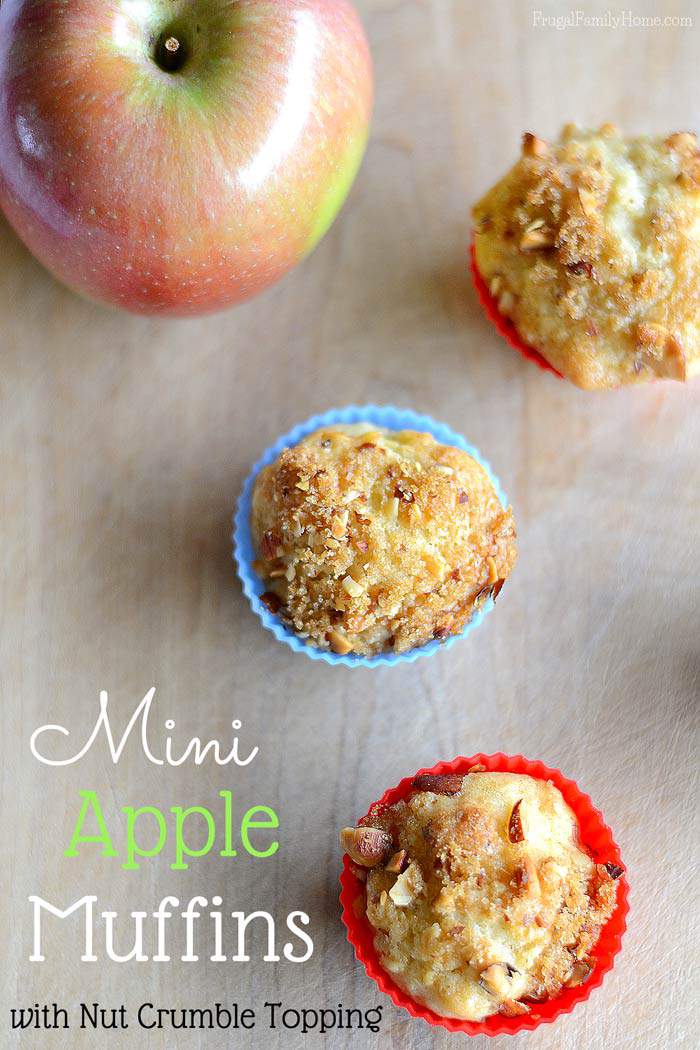 Apple Mini Muffins with Nut Crumble Topping
Ingredients
Muffin Batter

1

egg or 1T soy flour and 1 T water

1/2

cup

Milk

soy milk, almond

1

cup

grated apple

1/2

tsp.

cinnamon

1/4

cup

oil

1 1/2

cup

Flour

1/2

cup

sugar

2

tsp.

baking powder

1/2

tsp.

Salt
Nut Crumble Topping

1/3

cup

brown sugar

1/3

cup

chopped nuts

I used almonds

1/2

tsp

cinnamon
Instructions
Make Muffin Batter

Mix all the dry ingredients together with a whisk to mix them well.

Add the wet ingredients and mix until the flour is just moistened. The batter will be lumpy, be careful not over mix.

Spoon batter into greased muffin tins. Then make the nut crumble topping.

To Make the Nut Crumble Topping

Mix together the brown sugar, chopped nuts and cinnamon in a bowl.

Sprinkle on top of the muffin.

Bake 400 degrees for 15 to 20 minutes until golden brown. I like to bake my muffins in the upper third of the oven so the tops get nice and golden.

Let cool about 3-5 minutes and then remove from muffin pans and enjoy.
These make a great breakfast or even a snack. They are also great for sack lunches too.
Find more breakfast recipe here. If you are on Pinterest be sure to follow my Breakfast Recipes board. Looking for more apple recipes? Click here to find more.
Subscribe and you'll get Recipes
sent right to your inbox!
Click the button below and fill out the form.