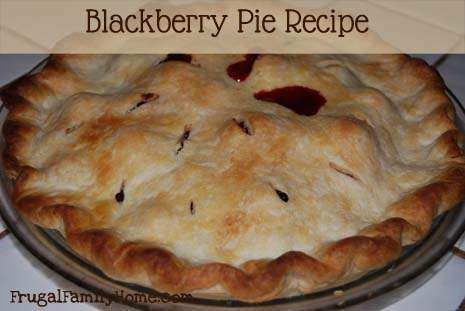 Just recently I found a great deal on Blackberries at my favorite close out store. I was able to purchase 13.5 pounds of Blackberries for just $3.00. It was such a good buy I just couldn't pass it up. But you may be wondering what I did with all those berries?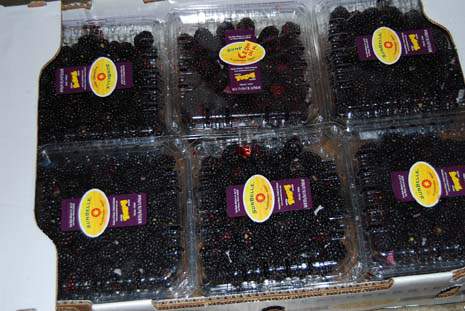 First I made some jam which I will be posting about soon. I froze some to use in future baking, like more pies, crisp and maybe even a cobbler. I also made this pie. So I thought I would share the recipe with you just in case you ever find yourself with the dilemma of what to do with too many blackberries.
Blackberry Pie
To start with I made up the crust. There are many different recipes for pie crust out there. Some use oil, some shortening and some butter. Butter is out for our family because of our milk allergy so I usually use margarine or coconut oil. I have found coconut oil to be a good substitute for shortening or butter in pie crust. I have found that softening it in the microwave first does make it easy to cut in. I like an oil pie crust too but you really need to roll it out between two sheets of wax paper as it can be more sticky.
I usually cut in the fat into the flour/salt mixture with my hands. I just grab and pinch the pieces of fat and then drop and continue doing this until the mixture resembles small crumbs. Then I add in the water. I once heard on a cooking show don't be afraid to add more water or flour as needed to a pie dough. If it is too dry it will be crumbly and if it is too wet it will stick. Since I learned this way of pie crust making I go more by feel and texture to determine how much water needs to be added.
I cut my dough in half and then rolled out on half to form my bottom crust. Placed it in my pie pan. Then I mixed up the filling.
This is the recipe I use for the filling out of my mom's cookbook
1 cup sugar
1/3 cup flour
1/2 tsp cinnamon
4 cups berries
1 1/2 T butter ( I used Nucoa)
I mixed the dry ingredients in a bowl first then added the berries. I stirred it lightly not to break up the berries. Then I transferred the berry mixture to the pie pan with the bottom crust. I added the butter cut into small pieces on top of the berries.
Next I took the rest of my pie dough and rolled it out and added it to the top. I cut off some of the extra dough off and folded the extra pie crust under the bottom pie crust. Then I made a decorative edge and cut some slits in the top to let the steam escape.
Bake at 425 degrees for 35 to 45 minutes until the pie is golden brown. We served ours with a little Cool Whip on top. But ice cream would be equally good too.
Doesn't this pie look oh so yummy!
Subscribe and you'll get Recipes
sent right to your inbox!
Click the button below and fill out the form.