Here is another one of my posts about inexpensive dinners to incorporate into your meal plans to save money on groceries. For this meal we make crisp and soft tacos, serve it with chips, salsa, refried beans and fruit.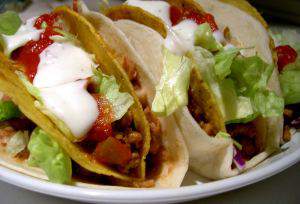 Taco Dinner
Taco Shells $.99/12 package we only need half for our family $.50
Lettuce $.50 (Everyday deals sells heads of lettuce for $.50 or less)
Ground Beef or Ground Turkey $2 for a pound
Taco Seasoning $.50 (this is a price for a packet but I make my own or buy it at the co-op)
Cheese $1 (I shred my own and purchase 8 oz for about $1.50)
Salsa $.60 (I make my own with a can of diced tomatoes and co-op salsa seasoning)
Flour Tortillas $.50-$.99 per package (if you prefer soft tacos) 1/2 package $.25-$.50
Refried Beans $.60 per can
Tortilla Chips $1 (half a bag to go with the tacos)
Fruit $1 (whatever was on sale this week or a can of fruit from the pantry)
This dinner works out to be about $7.95 for our family of 4, plus lunch for 3 people.
I will usually have enough left overs to make a lunch for the kids and myself the next day or to make 3-4 burritos for the freezer. So I will say it serves about 7 people. Cost per serving is $1.14.
I like to keep our meals about $.50 per person for breakfast and lunch meals. At dinner I like to keep it as close to $1 per person but that is not always the case.
Do you have a cheap meal you eat often at your home? Please share it with us.