Hot weather makes me crave cool food. I don't know about you but when it's hot, I don't want to eat something hot. When I think about cool food I think about salads. This creamy cucumber salad is the perfect choice for a hot summer day to cool down.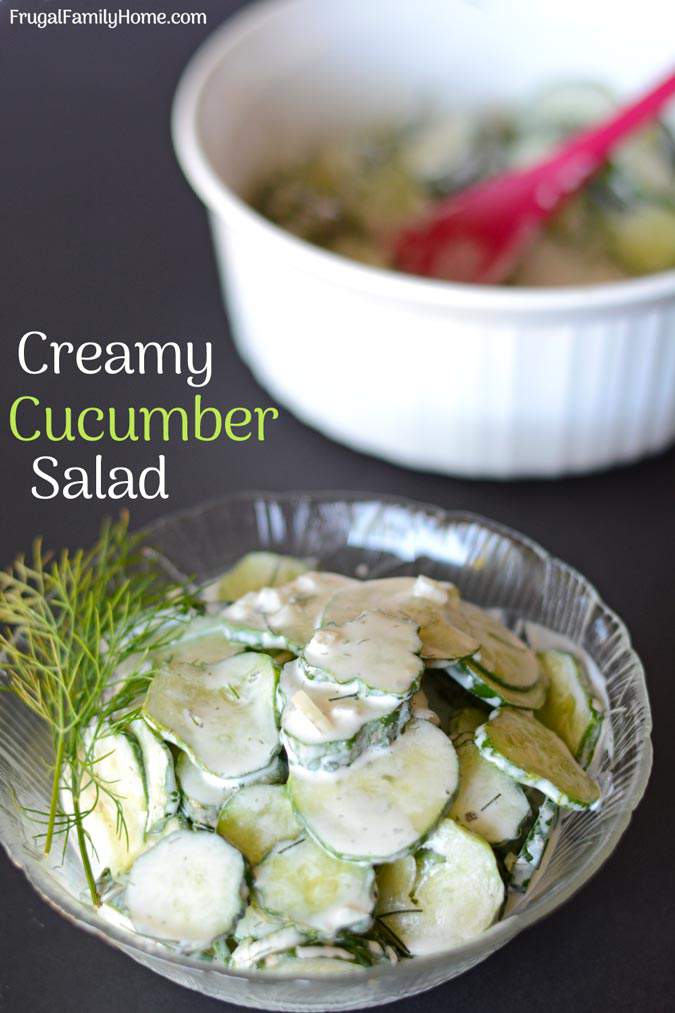 Cucumbers are a refreshing vegetable to eat. Their crisp, crunchy texture goes great with the cool, creamy, smoothness of the dressing it's a perfect combination for a summer salad.
When we have extra cucumbers out of our garden I like to make this salad for us. It's an easy cucumber salad to make but does need a little time to sit and marinate, so start it a little ahead of when you want to eat it.
Although, when I'm short on time and have a craving for this crisp, cool, and creamy salad, we eat it without the marinading it. The flavor isn't as intense but it still tastes great.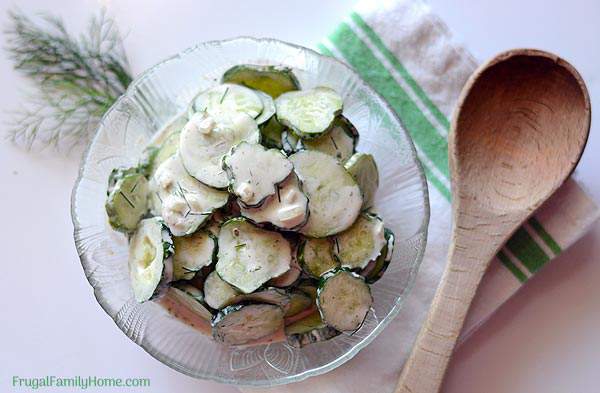 Because my family needs to eat dairy free, we make our creamy dill cucumber salad dairy free but you can use just regular sour cream if you don't need to eat dairy free.
I've found the Tofutti brand of dairy free sour cream works great in this recipe. But you could even make your own vegan sour cream by mixing silken tofu with lemon juice.
Ingredients for this Creamy Cucumber and Dill Salad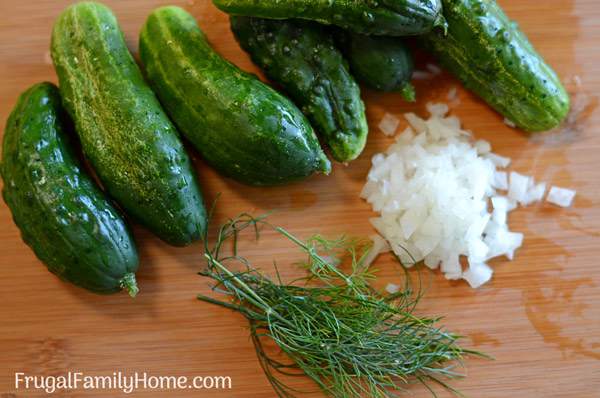 Cucumbers, regular or pickling cucumbers, I prefer the pickling cucumber because they don't contain seeds which we prefer.
Salt, you can use any kind of salt but we like to use pink Himalayan salt
Dill, if you have fresh dill from your garden use it if you don't have fresh dill you can use dried dill weed.
Onion, we use a regular yellow onion but I think a purple onion would be great too.
Parsley, use fresh if you have it but dried will do fine.
Lemon Juice, if you have a fresh lemon juice great if not use bottled lemon juice.
Sour Cream, we like Tofutti for our sour cream if you need to eat dairy free it's a great choice but regular sour cream works great too.
Mayonnaise, I use regular mayonnaise in this recipe and not miracle whip.
Sugar, just to add a small touch of sweet.
How to Make this Easy Cucumber Salad
Wash and prick the cucumbers
To start you want to wash your cucumbers well. Remove any of the sharp thorns from the outside and give them a good scrub to remove any dirt. Once clean prick them with a fork all over.
Slice and Let Sit in Salt
Once the cucumbers are cleaned and pricked all over, it's time to slice them thin. I'm not good at slicing them very thin but if I use my mandolin slicer it works well and makes nice uniform slices of cucumbers.
After the cucumbers are sliced sprinkled them with the salt and let them sit. The salt will draw out the extra moisture so it doesn't dilute the dressing.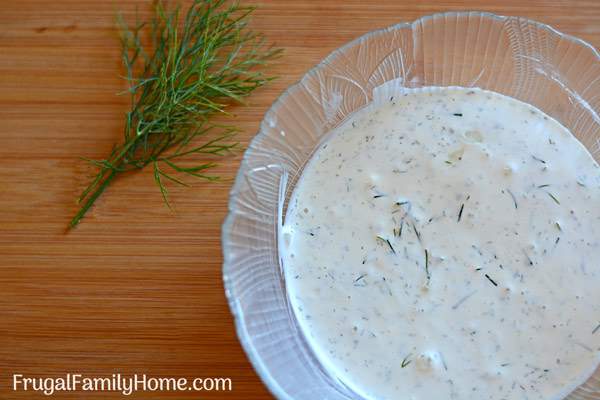 Make the Dressing
While the cucumbers are sitting in the salt. I add the remaining ingredients to a bowl and mix well. Then place the dressing in the refrigerator until the cucumbers are ready to add.
After the cucumbers have some of the liquid drawn off of them drain the cucumbers and add them to the dressing. Mixing well to get that creamy dressing on each and every slice of cucumber.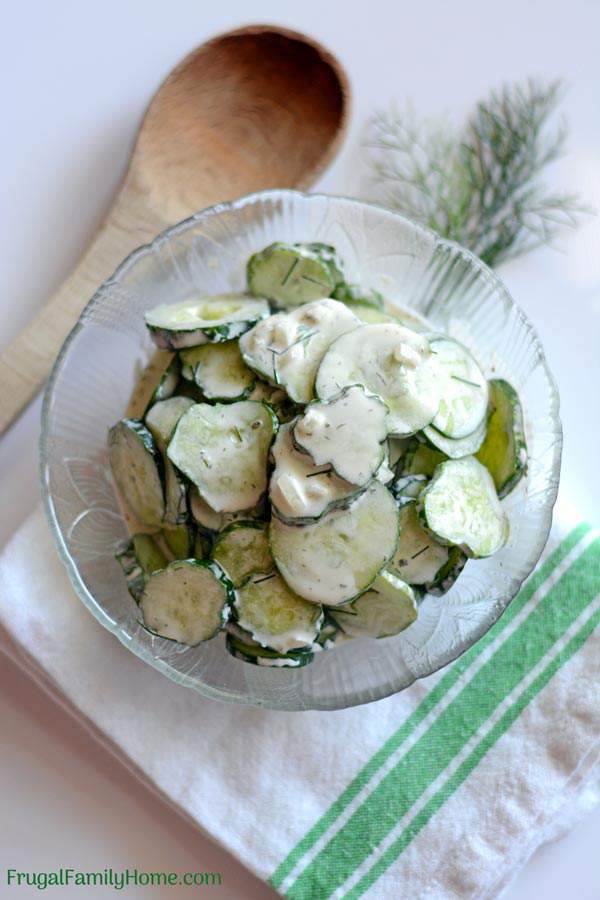 That's all there is to make this easy and delicious creamy cucumber salad. It makes for a wonderful side dish for a barbecue or picnic. It can be made ahead of time and only gets better as it sits waiting to be eaten.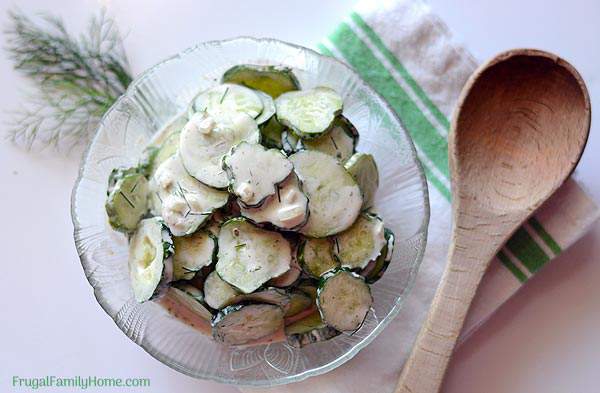 Creamy Dill Cucumber Salad
Ingredients
6

pickling cucumbers or 2 large cucumbers

1/2

teaspoon

kosher salt

2

T

fresh dill chopped or 2 t dried dill

use the fresh if you have it

1

T

finely diced onion

1

t

parsley

1

t

sugar

2

t

lemon juice

fresh if you have it

2

T

dairy free sour cream or regular if you don't need to eat dairy free

2

T

mayonnaise
Instructions
Wash your cucumber very well and then prick with a fork all around.

Slice in thin slices, add salt and stir.

Let cucumber sit for 15 minutes and then drain any juice off.

Mix remaining ingredients in a bowl. Then add cucumbers and stir well.

Refrigerate for 2-3 hours.

Serve cold and enjoy!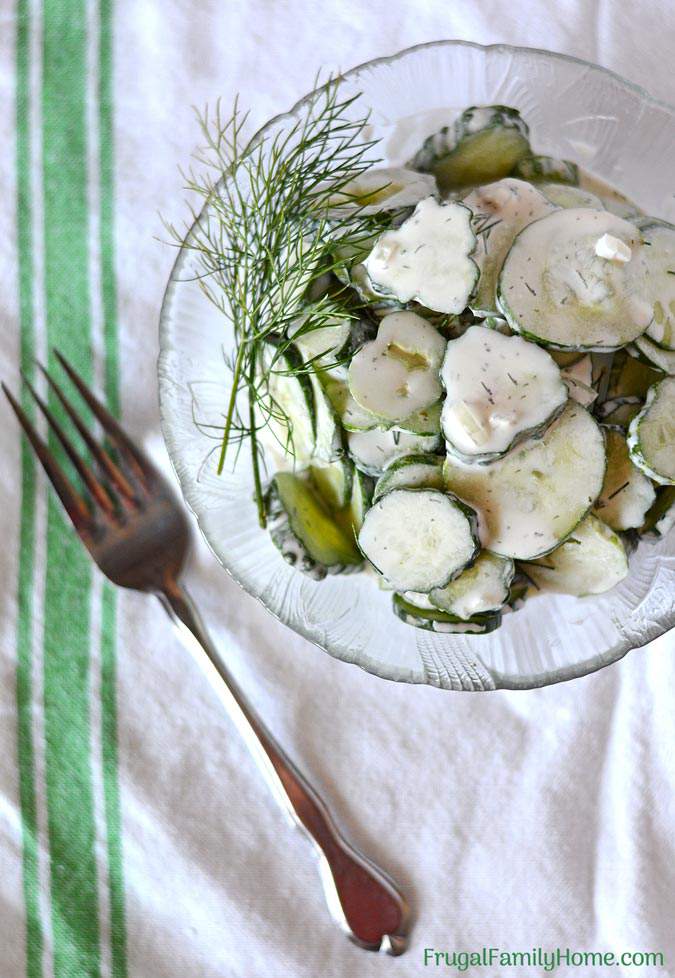 How do you like to make your creamy cucumber salad? Do you like dill in it, do you use sour cream?
Subscribe and you'll get Recipes
sent right to your inbox!
Click the button below and fill out the form.