For our second day of the food stamp challenge we had enough leftovers from dinner last night to have for lunch today for the kids and myself. So I just added some fruit and dessert and that made a very inexpensive meal. We eat leftovers quite often in our house. Some days I will even make extra so that we can have a second meal of it. Later this week I plan on making a pork roast and using the leftovers for sandwiches for dinner the next day. Anytime I can make ahead for the next days meals I try to take advantage of it. It turns out to be very little extra work for me on the day of prepping the food and lots of time saved on the next day.
Here is our meal breakdown for today.
Breakfast (we eat the same items each weekday morning so this section will not change much)
Kids toast with peanut butter, scrambled egg and oatmeal $.36 each or $.72 for the two breakfast.
Hubby's breakfast is toast with peanut butter and water $.21
Today I got so busy I didn't eat breakfast but this usually happens about one or twice a week, I don't want you to think I am skipping a meal just to save as I didn't skip this meal intentionally. Life just seems to happened some days.
Total for breakfast for all of us $.93
Lunch
My husband took his usual lunch, sandwich, chips, muffin, granola bar and a few tomatoes from our garden. $.70
The kids and myself ate leftovers from last night dinner so I have already figured the cost of the whole dish and added it in yesterday total so that was like getting an extra free dish. We also added in a nectarine, a few crackers and for dessert we had some muffins. Total for all three of us $.68
Total for lunches today $1.38 
Dinner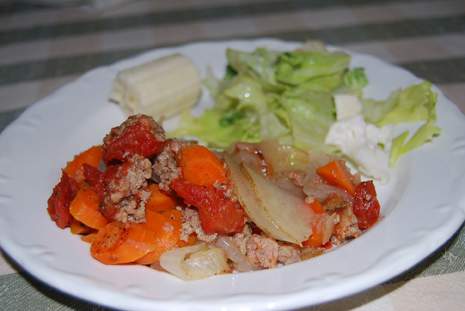 We had a casserole this evening with ground turkey, potatoes, onions and canned diced tomatoes. I also added a little salt and pepper to the dish. I also made a salad from a quarter head of lettuce and some cauliflower and broccoli I had in the refrigerator. I was able to purchase the head of lettuce for $.20 and I bought a big bag of broccoli, cauliflower and carrots all cut up for $.50. We have an abundance of $.25/lb bananas so I added in one of those too. We each had a mini muffin I made on Monday for dessert.
Total for our casserole dinner, salad, fruit and dessert $3.21
Snacks
My kids eat a snack three times a day. I make the same ones each week as they don't seem to mind and it makes it easier for me to prepare them. I will sometimes use leftover waffles, pancakes or muffins for a change of pace but usually we stick to a little peanut butter sandwich, lunchmeat and banana in each snack. The cost of all 6 snacks works out to be $.73
After dinner snacks
My kids did have a bowl of cereal, along with my husband and myself($.80). My husband also had some chips(.10) and I ate a cheese stick($.12)
Snack total for today $1.75
Total spending for all meals for this day $7.27 or $1.82 per person.
You may be looking at my total for the day and thinking that can't be true. I have to tell you I have not figured the cost of our meals in a very long time and I was shocked at how inexpensive some of our meals are. Cooking from scratch does save our family quite a bit. But cooking from scratch may not always save you money.
I have found that making organic whole wheat bread at home with similar ingredients as the store-bought bread costs me $.97 with estimated energy costs. I can purchase organic whole wheat bread for $.80 a loaf if I choose to go on the sale day, Saturday. Now my homemade bread tastes much better and I do make it at home but not on a regular basis anymore now that I have found a good source for inexpensive bread.
I also have been shopping Everyday Deals which is a closeout store. I find most if not all of our fruits and vegetables at this store each week. Because it is a closeout store the stock on hand changes each day or even by the hour if they are busy. I like to have some fresh fruit and vegetables on hand each week. I am not  picky about what kind of veggies or fruit just whatever is a good price. Some examples of deals I have gotten at this store, lettuce (romaine or iceberg) $1 for 4 heads, sometimes 5, tomatoes $.39/lb, plums $.69/lb, green peppers $1/3, bagged up baby bell peppers $1.59 each bag, asparagus $.49/lb, red potatoes 5lb bag $.50, and that is just a few of the prices from the last few weeks. So if you have a good closeout store near your home you can save a bunch on produce and other items. If you don't have a closeout store check for farm stand these are also a great place to purchase produce at better prices than the grocery store. Be on the look out for really good deals at your grocery store. This week Fred Meyer has 10 pounds of potatoes for $.98.
[signoff]
You can see more about this Challenge here.
Other posts in this series